My Radio Show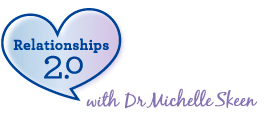 On my radio show, Relationships 2.0, I interview guests who present their unique perspectives and expertise on topics that cover all aspects of relationships. The authors and experts I chat with offer advice and tips for understanding ourselves and others better.
The show airs Thursdays on:
AM 1520 / 99.5 FM – Las Vegas, NV – 8:00 AM (PT)
101.5 FM – Long Beach, CA – 8:00 AM (PT)
96.3 FM – Boulder, CO – 9:00 AM (MT)
87.9 FM – Colorado Springs, CO – 9:00 AM (MT)
90.3 FM – Milwaukee, WI – 10:00 AM (CT)
AM 810 / 87.9 FM – Macon, GA – 11:00 AM (ET)
94.7 FM – Pittsburgh, PA – 11:00 AM (ET)
AM 1640 / 102.1 FM – Lancaster, PA – 11:00 AM (ET)
AM 1630 / 102.1 FM – Tampa, FL – 11:00 AM (ET)
90.3 FM – Jacksonville, FL – 11:00 AM (ET)
If you missed the radio station broadcasts, you can download my podcasts from iTunes, or go to the podcast archive page. Some past shows are also available on the video archive page.
Or subscribe to my podcast

If you would like to search for a past show using keywords, see my blog.
————————————————————————————————————
MAY AND JUNE, 2012
Susan Tschudi is a Licensed Marriage and Family Therapist and adjunct professor at Pepperdine University and the author of Loving Someone with Attention Deficit Disorder. After counseling many couples where one partner has Attention Deficit Disorder, she realized that there were many resources available for the partner with ADD but very few existed that directly addressed the frustrations and needs of the non-ADD partner. Drawing upon her clinical experience and personal experience (her husband has ADD), Loving Someone with Attention Deficit Disorder fills the gap for the non-ADD partner by normalizing feelings, acknowledging the specific challenges involved and offering hope for the future.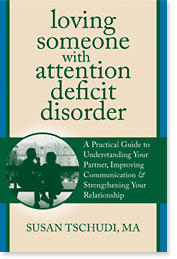 About Susan's book:
Your partner's attention deficit disorder (ADD) may not seem like a big deal at first, but eventually, the dynamics surrounding his or her impulsivity, forgetfulness, distractibility, and restlessness can really strain your relationship. You don't want to act like a parent, yet you may feel like you can't rely on your partner to get things done. Loving Someone with Attention Deficit Disorder is your guide to navigating a relationship with someone with ADD so you can create healthy boundaries while remaining sympathetic to your partner's symptoms.
An essential resource for every couple affected by ADD, her book will help you:
• Understand medication and other treatments
• Recover quickly when your partner's symptoms frustrate you
• Establish personal boundaries to avoid excessive caretaking
• Identify and take care of your own needs so you can feel more relaxed
————————————————————————————————————–
My guest will be Christine Kniffen, LCSW, who is the author of The Art of Relating: A Primer for Love. Christine offers answers and solutions to your relationship dilemmas to help you move forward and achieve a great relationship.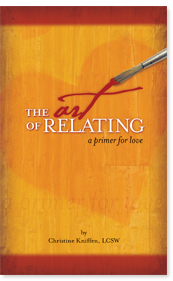 About the Book
Divorce rates in America present a sobering picture. It is estimated that 50% of first marriages, 67% of second and 74% of third marriages end in divorce. People just aren't getting it right. Time is ticking. In this crazy world, now more than ever, we need help in how to navigate the arena of love and achieve successful relationships.
In The Art of Relating: A Primer for Love, psychotherapist and relationship coach Christine Kniffen, LCSW offers readers a real how to when it comes to handling just about every aspect of relationships. Are you on the fence wondering if you should stay or go? Do you find that you continually lose your identity in relationships and want to know why? Do you have a pattern of gravitating to the emotionally unavailable, but don't know how to stop it? Do you have trouble getting your needs met and can't understand why? For just about any relationship situation that you find yourself in, The Art of Relating will help to show a clear path forward, while explaining why you have been struggling so hard up to this point.
According to Kniffen, "Everyone can have a great relationship and need not settle for crumbs. In the areas of self-esteem and relationship expectations, most of us require some tweaking to get what we want. Instead of wasting energy feeling bad about your love life, why don't you try doing something about it and begin educating yourself on what is really required to have a great relationship? Then, you can finally begin to recognize the person who can actually give it to you."
Whether you are tired of the dating merry-go-round or want to improve your current relationship, The Art of Relating will guide you through the typical relationship land mines and teach you how to reach the top with the one you love.
More About Christine
Christine Kniffen, LCSW is a psychotherapist who received her master's degree from the University of Missouri-Columbia. Christine works in private practice specializing in Relationship Coaching and couples counseling.  She is a columnist for The Healthy Planet magazine, presents workshops on a variety of topics, is a paid lecturer and currently hosts The Art of Relating on Blog Talk Radio.
Listen to Podcast
————————————————————————————————————
Shawn T. Smith, PsyD, is the author of The User's Guide to the Human Mind:  Why Our Brains Make Us Unhappy, Anxious, and Neurotic and What We Can Do about It.
Shawn's book is about living with our minds when our minds are driving us crazy. It's about understanding what the mind is doing, why it is doing it, and how we can live our lives anyway. It is about honestly appreciating what our minds give us? even the thoughts and feelings that we do not want? and gently taking the reins when our minds are blocking our way.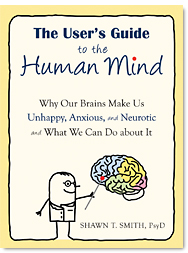 Shawn describes his book:
Part 1 looks at ways in which the mind speaks to us, and how to gain distance from our own thoughts and feelings so that we can respond to them with more insight and freedom.
Part 2 discusses how to move forward when the mind wants to protect us from things that we want, but that the mind sees as dangerous.
Part 3 deconstructs some of the underlying mechanisms that keep us mired in unproductive behaviors. When we can observe what's going on behind the scenes, we have the power to make our own choices rather than following the impulses of the mind.
Finally, Part 4 discusses the proper care and feeding of a human mind so that we can reduce the power that it holds over us.
Throughout this book, I refer to the mind as if it were a separate entity. Of course it isn't separate, but if your mind is like my mind, it can certainly seem that way. The brain (the physical structure that gives us a mind?we'll explore the distinction in chapter 2) is built in such a way that most of its functions and drives lie outside our control, just as the bulk of an iceberg lies beneath the water's surface. But just because most of the brain's functions and drives lie outside our control, that doesn't mean that our minds are working against us. To the contrary, their purpose is to keep us safe. I hold two assumptions that will serve as a foundation as we explore the mind's pursuit of safety.
First, different parts of the brain can act on different contingencies. That means that even when we realize we shouldn't eat an entire box of cookies, some part of our mind believes it would be useful to do so.
Second, the unwanted thoughts, feelings, memories, and compulsions of our mind exist for a reason, even when we face something as trivial as a cookie. A well-functioning mind knows that salt, sugar, and fat are rare commodities?or at least they were rare in the primitive environment. That's where our brains grew up, and the circuitry that we developed to survive in a younger and more challenging world continues to drive us to this day. Better eat that cookie while you can, says a well-oiled, survival-driven mind, the opportunity may not come again! Because they constantly "worry" about our survival, I call our minds "worry machines." But they are worry machines with a very important purpose: they are here to help us? whether we like it or not.
They can be annoying, to be sure. They can mislead us and can even cause pain, but their quirky behavior, to borrow from computer programming parlance, is almost always a feature of the software, not a bug in the program. However abnormal your mind may seem to you, it is probably functioning as it should. But I don't want you to take my word for it. Instead, check my words against your own experience.
Throughout this book, I invite you to do exercises and experiments designed to illuminate your mind's surreptitious attempts to continually direct your behavior in ways both subtle and gross. When we can see what the mind is up to, we can then gain the freedom to respond according to our higher values rather than allowing subconscious processes to direct us. Instead of letting our minds drive us crazy, we can learn to harness, and even appreciate, the mind's naturally protective tendencies.
For more information about Shawn T. Smith go to www.ironshrink.com
Listen to Podcast
—————————————————————————————————————
Guest: Stan Tatkin, PsyD, author of Wired for Love: How Understanding Your Partner's Brain and Attachment Style Can Help You Defuse Conflict and Build A Secure Relationship.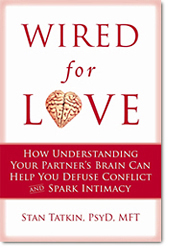 Wired for Love challenges partners to experience their relationship in a totally new way. Partners will learn how to engage positively as a couple to help each other feel safe and secure by following the relationship exercises suggested in this exciting new book. In clear, concise language, Tatkin describes the ways that partners can understand and become experts on one another. He suggests building a 'couple bubble' wherein each partner is the most important person in the other's life, the one individual on whom the partner can always count.
Tatkin's model, based upon neuroscience, attachment and moment-to-moment arousal, helps couples keep their bonds fresh and alive. Among the messages interspersed throughout this book are:  finding ways to become experts on one another, knowing the three or four things that make a partner feel good, spontaneously making the partner feel happy and loved, avoiding the things that make the other feel bad, managing one another's highs and lows, knowing what to do when things go awry, learning how to fight fair and have a win-win relationship that reduces stress.
This is a book written for partners who want to be in a thriving relationship, but is also an excellent primer for psychotherapists who want to help their patients engage in and maintain successful relationships."
For more about Dr. Tatkin go to www.stantatkin.com
Listen to Podcast
————————————————————————————————————
My guest was Joe Messina, host of The Real Side with Joe Messina.
Listen to Podcast
————————————————————————————————————–
"Coach on the Couch with Dr. Michelle Skeen"

I was fortunate to co-host a radio show with "Coach" Ron Tunick for several months that we called "Coach on the Couch with Dr. Michelle Skeen." Below are the archived podcasts.
Listen to Podcasts:
March 28, 2012
1st Hour: Listen to Podcast – Wendy Behary author of Disarming the Narcissist discussing narcissism and empathy
2nd Hour: Listen to Podcast – Bart Magee, Director of Access Institute in San Francisco discussing bullying
March 22, 2012
Two hour live interview
1st Hour: Listen to Podcast
2nd Hour: Listen to Podcast
March 15, 2012
Two hour live interview
1st Hour: Listen to Podcast
2nd Hour: Listen to Podcast
March 8, 2012
Two hour live interview
1st Hour: Listen to Podcast
2nd Hour: Listen to Podcast
March 2, 2012
Two hour live interview
1st Hour: Listen to Podcast
2nd Hour: Listen to Podcast
March 1, 2012
Two hour live interview
1st Hour: Listen to Podcast
2nd Hour: Listen to Podcast
February 23, 2012
Two hour live interview
1st Hour: Listen to Podcast
2nd Hour: Listen to Podcast
February 16, 2012
Two hour live interview
1st Hour: Listen to Podcast
2nd Hour: Listen to Podcast
February 9, 2012
Two hour live interview
1st Hour: Listen to Podcast
2nd Hour: Listen to Podcast
February 2, 2012
Two hour live interview
1st Hour: Listen to Podcast
2nd Hour: Listen to Podcast