My Radio Show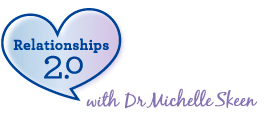 On my radio show, Relationships 2.0, I interview guests who present their unique perspectives and expertise on topics that cover all aspects of relationships. The authors and experts I chat with offer advice and tips for understanding ourselves and others better.
The show airs Thursdays on:
AM 1520 / 99.5 FM – Las Vegas, NV – 8:00 AM (PT)
101.5 FM – Long Beach, CA – 8:00 AM (PT)
96.3 FM – Boulder, CO – 9:00 AM (MT)
87.9 FM – Colorado Springs, CO – 9:00 AM (MT)
90.3 FM – Milwaukee, WI – 10:00 AM (CT)
AM 810 / 87.9 FM – Macon, GA – 11:00 AM (ET)
94.7 FM – Pittsburgh, PA – 11:00 AM (ET)
AM 1640 / 102.1 FM – Lancaster, PA – 11:00 AM (ET)
AM 1630 / 102.1 FM – Tampa, FL – 11:00 AM (ET)
90.3 FM – Jacksonville, FL – 11:00 AM (ET)
If you missed the radio station broadcasts, you can download my podcasts from iTunes, or go to the podcast archive page. Some past shows are also available on the video archive page.
Or subscribe to my podcast

If you would like to search for a past show using keywords, see my blog.
————————————————————————————————————
OCTOBER – DECEMBER, 2012
My guest for this week is Julie M. Simon author of The Emotional Eater's Repair Manual:  A Practical Mind-Body-Spirit Guide for Putting an End to Overeating and Dieting.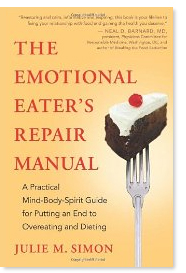 About the book:
Despite our best intentions, many of us find ourselves routinely overeating at meals, snacking mindlessly, or bingeing regularly. As emotional eaters, we turn to food for comfort, soothing, distraction, and excitement. There's a disconnection fueling our eating, robbing years from our lives, and we know it. We're tired of restrictive diets that lead back to overeating, and we're ready to try something different.
Therapist and life coach Julie Simon offers a new approach that addresses the true causes of overeating and weight gain: emotional and spiritual hunger and body imbalance. The Emotional Eater's Repair Manual presents five self-care skills, five body-balancing principles, and five soul-care practices that can end overeating and dieting forever. You'll learn to nurture yourself without turning to food, to correct body and brain imbalances that trigger overeating, and to address your soul's hunger. Weight loss, more energy, improved health, and self-esteem will naturally follow.
About the author:
Julie M. Simon, MA, MBA, LMFT, is a licensed psychotherapist and life coach with more than twenty years of experience helping overeaters stop dieting, heal their relationships with themselves and their bodies, lose excess weight, and keep it off. A lifelong fitness enthusiast, she is also a certified personal trainer with over twenty-five years of experience designing exercise and nutrition programs for various populations. Julie Simon is also the founder and director of the Los Angeles-based Twelve-Week Emotional Eating Recovery Program, which offers an alternative to dieting by addressing the mind, body, and spirit imbalances underlying overeating. Her professional experience with and personal journey through childhood trauma, weight challenges, and body, brain, and spiritual imbalances led to the creation of the twelve-week program, which she has been running for twenty years. For more information and inspiration, you can visit her online at www.overeatingrecovery.com.
————————————————————————————————————
This week my guest is Kelly C. Allison, PhD, author of Overcoming Night Eating Syndrome: A Step-by-Step Guide to Breaking the Cycle.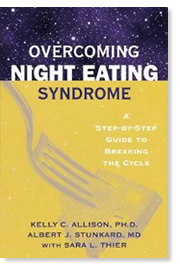 About the book:
The statistics are powerful and alarming: perhaps as many as 6 million Americans suffer from night eating syndrome, or NES, an eating disorder which describes behavior patterns in which an individual obsessively consumes more than half of his or her daily caloric intake after eight o'clock in the evening. More significant is the further finding that more than 33 percent of morbidly obese individuals, persons who are 100 or more pounds overweight, are affected by this disorder. Experts agree that NES shares characteristics of not only eating disorders but also sleep and mood disorders. Sufferers tend to exhibit symptoms such as feelings of anxiety and guilt, insomnia, or interrupted sleep. Typical NES behaviors include absent appetite during the day, a consistent pattern of eating more food after dinner than during the meal itself, and recurrent episodes of waking and eating throughout the night. This book offers a step-by-step strategy for managing and overcoming this disorder.
From this book, you will first learn to identify the signs of NES, and then use journaling exercises to discover what automatic thoughts surround your night eating. Having identified the problematic behaviors, you will find out how to break these patterns with healthier food choices, more structured mealtimes, and a series of relaxation and visualization techniques.
About the author:
Kelly C. Allison, Ph.D. is an Assistant Professor of Psychology in Psychiatry at the Perelman School of Medicine at the University of Pennsylvania and Co-Director of Education at the Center for Weight and Eating Disorders. She received her B.A. from the University of Notre Dame in 1995 and her M.A. and Ph.D. from Miami University in 1997 and 2000, respectively.
Dr. Allison's research interests include characterizing and treating the Night Eating Syndrome and the role of weight and eating behaviors on reproductive health. Dr. Allison is also the Director of Education at the Center for Weight and Eating Disorders, leading didactic seminars for pre-doctoral psychology practicum students and supervising their clinical work. She serves as a faculty mentor for undergraduate and medical student research projects. Dr. Allison also enjoys providing psychotherapy related to weight loss and disordered eating through the Stunkard Weight Management Program, and she provides pre-operative bariatric surgery psychological evaluations at Penn Medicine.
Dr. Allison is a Fellow of the Academy for Eating Disorders and a member of the Obesity Society and the American Psychological Association. She has published over 80 peer-reviewed papers and chapters, and two books.
————————————————————————————————————
This week my guest is Margaret Floyd, author of Eat Naked: Unprocessed, Unpolluted and Undressed Eating for A Healthier, Sexier You.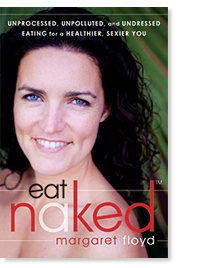 About the book:
Are you fed up with counting calories?
Confused by all the diet hype?
Want to eat delicious, real food and look and feel great?
Leading nutritional therapist Margaret Floyd's Eat Naked will help you strip away the overprocessed, overpackaged, and overdressed junk food from your diet. It's time to enjoy "naked" foods-whole foods that are fresh, organically grown, and prepared in ways that allow each food's naturally delicious flavors to shine through. In this book, Margaret shows you how to choose the nutrient-dense foods that will make you look and feel so gorgeous, you'll want to take it all off.
You'll discover new ways to prepare foods without sacrificing flavor and learn practical tips for eating within your budget. Eat Naked includes easy recipes for all sorts of delicious things you can feel good about eating and making for others. Once you see how great you look and feel when you eat naked, you won't want to eat any other way!
About the author:
Margaret Floyd is the author of Eat Naked: Unprocessed, Unpolluted, and Undressed Eating for a Healthier, Sexier You. She received her nutritional therapy practitioner certification from the Nutritional Therapy Association, was certified as a holistic health counselor by the Institute of Integrative Nutrition, and as a certified healing foods specialist. She is also certified by the American Association of Drugless Practitioners. She has a thriving private practice in Los Angeles, CA. Floyd's work with clients is focused on shifting their diet to a naked diet through gradual changes to their lifestyle, cooking methods, shopping habits, and recipes. She shares her passion for food and good health by teaching her clients how to eat so that they can enjoy both. Visit her at www.eatnakednow.com
————————————————————————————————————
This week my guest is Sheri Van Dijk MSW, author of Calming the Emotional Storm: Using Dialectical Behavior Therapy Skill to Manage Your Emotions and Balance Your Life.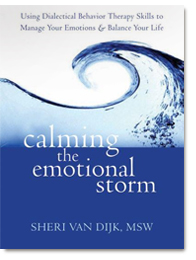 About the book:
When you have difficulties managing your emotions, it can feel like you're losing control of your whole life. Anger, hurt, grief, worry, and other intense feelings can be overwhelming, and how you react to these emotions can impact your ability to maintain relationships, succeed at work, or even think straight! If you find it difficult to understand, express, and process intense emotions—and most of us do—this book is for you.
Calming the Emotional Storm is your guide to coping with difficult emotions calmly and responsibly by using powerful skills from dialectical behavior therapy. This method combines cognitive behavioral techniques with mindfulness practices to change the way you respond to stressful situations. By practicing these skills, you can stop needless emotional suffering and develop the inner resilience that will help you weather any emotional storm.
This book will teach you how to:
Establish a balanced life for an everyday sense of well-being
Let go of unwanted worries and fears
Become better at accepting yourself and others
Work through a crisis without letting emotions take over
About the author:
Sheri Van Dijk, MSW, is a mental health therapist in private practice and at Southlake Regional Health Centre in Newmarket, ON, Canada. She specializes in the treatment of bipolar disorder and other psychiatric disorders using dialectical behavior therapy (DBT) and mindfulness practice. She is author of The Dialectical Behavior Therapy Skills Workbook for Bipolar Disorder and Don't Let Your Emotions Run Your Life for Teens, and coauthor of The Bipolar Workbook for Teens. You can visit her online at www.sherivandijk.com.
————————————————————————————————————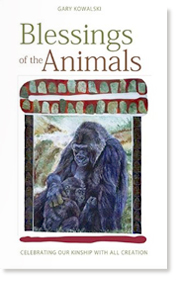 My guest this week is Gary Kowalski. He will help us understand our relationship with animals as we discuss his new book Blessings of the Animals: Celebrating Our Kinship with All Creation.
About the Book:
Come into the Cathedral of the Earth to worship and to wonder…
Learn how the "swarm intelligence" of the common ant is inspiring smarter communication and transportation systems.
Discover what happens when a visionary artist travels to Africa to bury the portraits of 23 primates who died in a Philadelphia zoo.
Ponder how cultures as diverse as the Cherokee, Chinese, Egyptians, and ancient Hindus identified the night's brightest star, Sirius, with a canine spirit guide.
Explore how meditation practice helps a Buddhist beekeeper fend off a disease that threatens most of the world's beehives.
These true stories and many more will make you laugh, weep, and marvel at the amazing creatures who share our planet, from the earthworm to the elephant, all in Blessings of the Animals.
From the Author:
The word bless is related to our English word bliss, and both share a root with blithe, meaning merry, upbeat, cheerful, or exuberant. Don't animals teach us about blessing, about joy? Not one is worried about the stock market. Not one is keen on governing the Animal Kingdom. None carries a passport or immigration papers because they don't live in a state like Arizona or Texas that cares about such things. Animals live in a state of bliss.
As a parish minister, I've conducted dozens of interspecies galas over the years that are invariably a barking good time for all participants. Blessings of the Animals grows out of these celebrations. In this volume, you'll learn about Worm Charmers and Dog Chapels (stories that will make you smile). You'll also encounter avian heroes like the flock of swans who save a frozen goose, as well as human exemplars—from the ancient philosopher Diogenes to modern biologists like Rachel Carson—who turned to nature to find wisdom for the journey.
My hope is that Blessings of the Animals will add a grace note to your day, just as animals enrich our lives and make our our world whole.
————————————————————————————————————
This week my guest on Relationships 2.0 is Deborah Price author of The Heart of Money: A Couple's Guide to Creating True Financial Intimacy.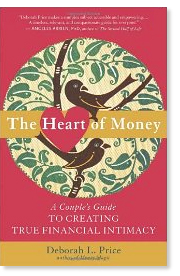 About the book:
Money issues have long been the number one cause of relationship disharmony and divorce, yet when it comes to identifying and changing unhealthy money patterns and behaviors, many couples feel helpless. Money coach Deborah Price has taught thousands of people how to work together to resolve money conflicts and create a financially empowered future. In these pages, she presents strategies and tools for creating financial intimacy while learning to communicate about money issues calmly and reflectively, rather than reactively. With inspirational stories and practical techniques and exercises, this book will help you and your partner:
learn the language of financial intimacy and talk about money in a healthy and empowering way
recognize and change unhealthy money patterns
identify which of the eight money types apply to each of you and understand the impact they have on your life, your relationship, and your finances
build a mutual sense of financial security and confidence
work through setbacks and challenges to make your relationship stronger than ever before
About the author:
Deborah Price is the Founder and CEO of The Money Coaching Institute, which provides money coaching and training to both individuals, couples and corporations. A former financial advisor for over twenty years with firms such as Merrill Lynch, Mass Mutual, AIG and London Pacific Advisors, Deborah left the financial industry to pioneer the field of Money Coaching.
Coping with money issues, both practically and psychologically, continues to be a major life struggle for millions of people and yet, there is very little help available. As a result, people often manifest money patterns, beliefs and behaviors that prevent them from experiencing their full financial potential.Deborah has developed a unique, step-by-step coaching program that helps clients move beyond barriers to their personal and financial success.
As a result, client's experience renewed hope, confidence, and enhanced financial success. Through education and awareness, Deborah is committed to empowering others around money, both personally and practically. She is the author of Money Therapy an Money Magic: Unleashing Your Potential for Wealth and Prosperity; and Start Investing Online Today. She has appeared on numerous radio and television shows throughout the United States and is considered a leading expert in her field. She resides in Northern California with her family.
————————————————————————————————————
Relationships 2.0 did not broadcast due to KCAA-1050AM election day special programming
————————————————————————————————————
My guest this week is Brooks Palmer, author of Clutter Busting Your Life:  Clearing Physical and Emotional Clutter to Reconnect with Yourself and Others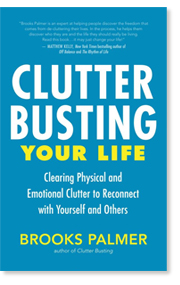 About the book:
Over the course of his career helping people let go of things they no longer need, Brooks Palmer has been struck by the many ways that clutter affects relationships. In these pages, he shows how we use clutter to protect ourselves, control others, and cling to the past, and how it keeps us from experiencing the joy of connection. With insight-prompting questions, exercises, client examples, and even whimsical line drawings, Palmer will take you from overwhelmed to empowered. His gentle guidance will help you to not only clear clutter from your home but also enjoy deeper, more authentic, and clutter-free relationships of all kinds.
About the author:
In his ten years of Clutter Busting in Chicago, Los Angeles, San Francisco, and New York City, Brooks Palmer realized the intense emotional connection most people have with material possessions, and that internal clutter must be addressed before external clutter can be discarded. He created his Clutter Busting method to help people let go of those things they no longer need and to open the doors for new possibilities.
Brooks Palmer's Clutter Busting business took off by word of mouth when people began calling, usually out of sheer desperation. He has since been featured in The Chicago Tribune, The Los Angeles Business Journal and Daily Candy, and on Living Live, Chicagoing and the CBS Channel 2 Nightly News. Brooks travels between Chicago, Los Angeles, San Francisco, and New York City, working with clients and offering seminars on getting rid of the clutter in our lives. He lives in Chicago.
————————————————————————————————————
My guest this week is Joe Messina. He is a political radio talk show host. We are going to discuss how to have productive conversations with friends and family about politics. With less than three weeks until the Presidential election it's time to learn some healthy communication skills for these heated topics.
About Joe Messina:
Joe Messina began his radio career after being asked to fill in for a show host who cancelled short notice. Joe grabbed a Democrat and Republican and, being the "agitator" he can be, stirred it up!
After that, he was asked to do a one hour weekly show that quickly turned into a two hour show, then three hour show.
Now Joe can be heard daily across the airwaves and over the internet on several stations. He has loyal listeners in 42 states and 38 countries, and the list keeps growing!
Joe is a no-nonsense, conservative realist. He is not interested in "what if?" or "we could have!" He is interested in hearing both sides and has no problem taking on taboo issues with real questions looking for real answers. Race, religion, racism, and politics are all open season for topics on the show.
Joe has had several successful businesses and has held several executive positions with Fortune 1000 companies. He has been asked to teach business ethics classes for several organizations over the last 8 years.
Joe has been actively engaged in community, church and very involved in politics for well over a decade and has enjoyed a reputation of being a man of integrity and ethics.
Joe's goal for the show… Make sure that anyone listening can understand the conversation and walk away with new and useful information using clear simple English. No political speak. No double talk. Just REAL facts… REAL words… REAL conversation.
————————————————————————————————————
My guest is Julie Fast, co-author of Loving Someone With Bipolar Disorder: Understanding and Helping Your Partner.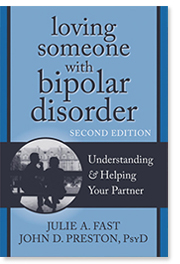 About the book:
Loving Someone with Bipolar Disorder is a first of its kind book—written specifically for the partner of a person with bipolar disorder. If you have a loved one with bipolar, you know how disruptive and straining this disorder can be to your relationship. You may experience feelings of fear, loss, and anxiety as well as a constant uncertainly about your loved one's ever-changing moods. This book is designed to help you overcome the unique challenges of loving someone with bipolar disorder. With the supportive and helpful information, strategies, and real-life examples contained here, you'll have all the tools you need to create a loving, healthy, and close relationship.
Find out how to:
• Identify which coping approaches work and which do not
• Recognize and transform a "bipolar conversation"
• Use new strategies to help manage episodic crises
• Survive the financial turbulence manic spending may cause
• Deal with problematic sexual issues
• Increase closeness and stability in your relationship
About the author:
Julie is the author of Take Charge of Bipolar Disorder: A Four Step Plan for You and Your Loved Ones to Manage the Illness and Create Lasting Stability, (Time/Warner 2006) Loving Someone with Bipolar Disorder: Understanding and Helping Your Partner (New Harbinger Publications, February 2004), Get it Done When You're Depressed (Penguin, 2008) and Bipolar Happens! (Grayson OmniMedia, 2012) and is a critically acclaimed author, national speaker, and sought after expert in the field of bipolar disorder and depression. She is regarded as a mental health pioneer for her groundbreaking, comprehensive approach to treating bipolar disorder and depression using both mainstream and self created management strategies.
Julie is a family and partner coach for those who love someone with bipolar disorder (www.JulieFast.com), writes a column for BP Magazine (www.BPHope.com), is a bipolar disorder specialist on the Oprah and Dr. Oz website (www.ShareCare.com) and has a popular blog and awesome newsletter at (www.BipolarHappens.com/bhBlog).  Julie was diagnosed with rapid cycling bipolar disorder II in 1995 at the age of thirty-one, after she had unknowingly lived with the disorder for over fourteen challenging and chaotic years.
————————————————————————————————————
My guest this week is Leslie Sokol, PhD co-author of Think Confident, Be Confident for Teens.
About the book:
Confidence is like a magnet that attracts people to you and helps you get closer to reaching your goals. When you believe in yourself, you send the message that you have the brains, ability, and talent to handle whatever life sends your way. And the truth is, you do!
Think Confident, Be Confident for Teens shows you how to tap into your self-esteem so you can be yourself in every situation, no matter how awkward you feel or scary that may sound. The fun exercises and tips in this confidence-coaching workbook will guide you past feelings of self-doubt and encourage you to believe in yourself, strengthen your friendships, and meet every challenge head-on.
Recognize and overcome the self-doubting thoughts that bring you down
Grow your confident thoughts into confident actions
Enjoy a full social life and attract new friends
Feel smarter at school and build on your extracurricular talents
This book has been awarded The Association for Behavioral and Cognitive Therapies Self-Help Seal of Merit — an award bestowed on outstanding self-help books that are consistent with cognitive behavioral therapy (CBT) principles and that incorporate scientifically tested strategies for overcoming mental health difficulties. Used alone or in conjunction with therapy, our books offer powerful tools readers can use to jump-start changes in their lives.

About the author:
Leslie Sokol, Ph.D., a licensed psychologist, is Senior Faculty, past Director of Education and one of the principal instructors with the internationally acclaimed Beck Institute for Cognitive Behavior Therapy in Philadelphia. She has taught cognitive therapy to professional and para-professional groups, nationally and internationally, on such topics as: depression, anxiety, personality disorders, stress management, psychosis, substance abuse, and couples' problems. In addition to her roles at the Beck Institute, she maintains a private practice in a primary care setting in the Philadelphia area. In her role as Chairman of Behavioral Science in the Family Practice Department at Mercy Suburban Hospital, she taught psychiatry to family medicine residents for twenty-two years. She continues to serve as the staff psychologist in the cardiac and physical rehabilitation departments.
————————————————————————————————————
My guest is Cindy Ariel, author of Loving Someone With Asperger's Syndrome.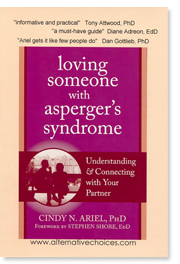 About the book:
If you're in a relationship with someone who has Asperger's syndrome, it's likely that your partner sometimes seems cold and insensitive. Other times, he or she may have emotional outbursts for no apparent reason. And in those moments when you can't understand each other at all, you both feel fed up, frustrated, and confused.
The behavior of people with Asperger's can be hard to understand and easy to misinterpret, which is why it's so important to learn more about your partner's condition. The tools presented in Loving Someone with Asperger's Syndrome will help you build intimacy and improve the way you and your partner communicate. Filled with assessments and exercises for both you and your partner, this book will help you forge a deeper, more fulfilling relationship.
This book will teach you how to:
• Understand the effect of Asperger's syndrome on your partner
• Practice effective communication skills
• Constructively work through frustrations and fights
• Establish relationship ground rules to help you fulfill each others' needs
About the author:
Cindy N. Ariel, PhD, is a Philadelphia psychologist with over twenty years of experience working with individuals and couples, many of whom have Asperger's syndrome. In 1992, she cofounded Alternative Choices, an independent group psychology practice that specializes in helping families with special needs. Ariel coedited the book Voices from the Spectrum.
————————————————————————————————————