My Radio Show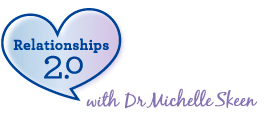 On my radio show, Relationships 2.0, I interview guests who present their unique perspectives and expertise on topics that cover all aspects of relationships. The authors and experts I chat with offer advice and tips for understanding ourselves and others better.
The show airs Thursdays on:
AM 1520 / 99.5 FM – Las Vegas, NV – 8:00 AM (PT)
101.5 FM – Long Beach, CA – 8:00 AM (PT)
96.3 FM – Boulder, CO – 9:00 AM (MT)
87.9 FM – Colorado Springs, CO – 9:00 AM (MT)
90.3 FM – Milwaukee, WI – 10:00 AM (CT)
AM 810 / 87.9 FM – Macon, GA – 11:00 AM (ET)
94.7 FM – Pittsburgh, PA – 11:00 AM (ET)
AM 1640 / 102.1 FM – Lancaster, PA – 11:00 AM (ET)
AM 1630 / 102.1 FM – Tampa, FL – 11:00 AM (ET)
90.3 FM – Jacksonville, FL – 11:00 AM (ET)
If you missed the radio station broadcasts, you can download my podcasts from iTunes, or go to the podcast archive page. Some past shows are also available on the video archive page.
Or subscribe to my podcast

If you would like to search for a past show using keywords, see my blog.
---
APRIL – JUNE, 2017
This week my guest is Linda Carroll author of Love Cycles: The Five Essential Stages of Lasting Love.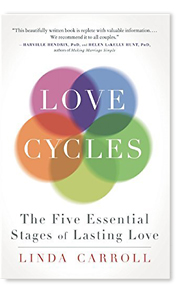 About the book:
In Love Cycles, veteran couples therapist Linda Carroll presents a groundbreaking model of the five natural stages of romantic relationships — the Merge, Doubt and Denial, Disillusionment, Decision, and Wholehearted Love — and a guide for navigating through them toward lasting love. Love Cycles helps readers understand where they are in the cycle of their relationship and provides a clear strategy for how to stay happy and committed, even in difficult times.
About the author:
Linda Carroll, MS, has worked as a couple's therapist for more than 30 years. In addition to being a licensed psychotherapist, she is certified in Transpersonal Psychology and Imago Therapy, the highly successful form of couple's therapy developed by Dr. Harville Hendrix and Dr. Helen LaKelly Hunt. She is also a master teacher in the Pairs Psychoeducation Process, a nationally-recognized relationship education program for couples. Linda has studied many modalities of psychological and spiritual work, including Voice Dialogue with Drs. Hal and Sidra Stone, Holotropic Breathwork with Dr. Stan Grof, the Four-Fold With Angeles Arrien, the Diamond Heart Work of A.H. Almaas, and training with The Couples Institute of Drs. Ellyn Bader and Peter Pearson. She is also certified in the Hot Monogamy program, which helps couples create or re-create a passionate connection between them.
---
This week my guest is Marc Allen author of The Magical Path: Creating the Life of Your Dreams and a World That Works for All.
About the book:
At the start of his career, Marc Allen never took a business course; he simply made what he calls "a sloppy, disorganized, lazy, and intuitive search through the books of Western magic." There he found the tools that took him from being a poverty case to a multimillionaire and helped him create one of the most successful independent publishers in the country. In The Magical Path, he presents these tools — effective, easy-to-apply practices, including affirmation, visualization, and guided meditation — that can change the course of readers' lives in miraculous ways, as they did his. Because these tools are so simple and powerful, Allen calls them magic. But far from esoteric, they are tools anyone can use to achieve their dreams and goals.
About the author:
---
This week my guest is Suzanne Scurlock-Durana author of Reclaiming Your Body: Healing From Trauma and Awakening to Your Body's Wisdom.
A guided tour through the body's innate healing powers
Many of us have learned to ignore, deny, or even mistrust the wise messages our bodies give us. The result is that when trauma strikes, a time when we need every aspect of our beings to master the challenge, we may find ourselves disconnected from our greatest strengths. Suzanne Scurlock-Durana, who has spent thirty years studying the gifts of the body and teaching thousands how to reclaim them, began to recognize this strength, which she likens to a GPS, when she herself experienced a life-threatening trauma. Here she walks readers through different areas of the body, revealing the wisdom they hold and how to reconnect with that wisdom. As she shows in this warm, compassionate book, the body's abilities are always available; we must simply reconnect with them.
Suzanne Scurlock-Durana's Healing from the Core curriculum, combined with CranioSacral therapy and other bodywork modalities, creates a complete, body-centered guide to awareness, healing, and joy. She is also the author of Full Body Presence. She teaches around the world and lives in Reston, Virginia.
---
This week my guest is Alexandra Solomon, PhD author of Loving Bravely: 20 Lessons of Self-Discovery to Help You Get the Love You Want.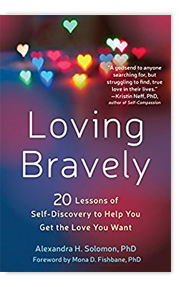 About the book:
Real love starts with you. In order to attract a life partner and build a healthy intimate relationship, you must first become a good partner to yourself. This book offers twenty invaluable lessons that will help you explore and commit to your own emotional and psychological well-being so you can be ready, resilient, and confident in love.
Many of us enter into romantic relationships full of expectation and hope, only to be sorely disappointed by the realization that the partner we've selected is a flawed human being with their own neuroses, history, and desires. Most relationships end because one or both people haven't done the internal work necessary to develop self-awareness and take responsibility for their own experiences. We've all heard "You can't love anyone unless you love yourself," but amid life's distractions and the myth of perfect, romantic love, how exactly do you do that?
In Loving Bravely, psychologist, professor and relationship expert Alexandra H. Solomon introduces the idea of relational self-awareness, encouraging you to explore your personal history to gain an understanding of your own relational patterns, as well as your strengths and weaknesses in relationships. By doing so, you'll learn what relationships actually require, beyond the fairytale notions of romance. And by maintaining a steady but gentle focus on yourself, you'll build the best possible foundation for making a loving connection.
By understanding your past relationship experiences, cultivating a strong sense of self-awareness, and determining what it is you really want in a romantic partner—you'll be ready to find the healthy, lasting love your heart desires.
About the author:
Alexandra H. Solomon, PhD, is staff clinical psychologist, member of the teaching faculty in the marriage and family therapy graduate program, and clinical assistant professor of psychology at The Family Institute at Northwestern University. In addition to her clinical work with couples and individuals, Solomon teaches graduate and undergraduate students. One of her courses is Northwestern University's internationally renowned "Building Loving and Lasting Relationships: Marriage 101," which combines traditional and experiential learning to educate students about key relational issues like intimacy, sex, conflict, acceptance, and forgiveness. Solomon's work has been widely cited, and her articles on love and marriage have appeared in The Handbook of Clinical Psychology, The Handbook of Couple Therapy, Family Process, Psychotherapy Networker, and other top publications in psychology. Her work also appears in O Magazine and The Huffington Post, and she is a frequent interviewee and contributor for the Oprah Winfrey Network, Yahoo! Health, The Atlantic, CBS Early Show, NPR, Psychology Today, and WGN Morning News. She is a sought-after speaker for corporate, collegiate, and professional audiences on topics related to modern love. Solomon lives in Highland Park, IL, with her husband, Todd, and their two children, Brian and Courtney.
---
This week my guest is Mark Coleman author of Awake in the Wild: Mindfulness in Nature as a Path of Self-Discovery.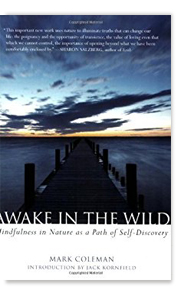 About the book:
"Nature deficit disorder" has become an increasingly challenging problem in our hyper modern world. In Awake in the Wild, Mark Coleman shows seekers how to remedy this widespread malady by reconnecting with nature through Buddhism. Each short (two to three pages) chapter includes a concrete nature meditation relating to such topics as Attuning to the Natural World, Reflecting the Rhythms of Nature, Walking with Compassion, Releasing the Inner Noise, Freeing the Animal Within, Coming into the Peace of Wild Things, Weathering the Storms of Life, and more. Incorporating anecdotes from the author's many nature retreats, Buddhist wisdom and teachings, important nature writings by others, and nature itself, the book invites readers to participate in, not just observe, nature; develop a loving connection with the earth as a form of environmental activism; decrease urban alienation through experiencing nature; embody nature's peaceful presence; and connect with ancient spiritual wisdom through nature meditations.
About the author:
Mark Coleman has been meditating for more than twenty-five years. He teaches at Spirit Rock Meditation Center and conducts nature meditation retreats all over the world. He lives in Mill Valley, California. www.awakeinthewild.com
---
This week my guest is Steve Taylor PhD author of The Leap: They Psychology of Spiritual Awakening.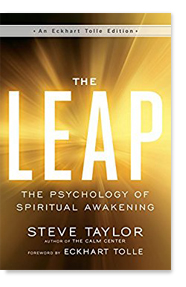 About the book:
What does it mean to be enlightened or spiritually awakened? In The Leap, Steve Taylor shows that this state is much more common than is generally believed. He shows that ordinary people — from all walks of life — can and do regularly "wake up" to a more intense reality, even if they know nothing about spiritual practices and paths. Wakefulness is a more expansive and harmonious state of being that can be cultivated or that can arise accidentally. It may also be a process we are undergoing collectively. Drawing on his years of research as a psychologist and on his own experiences, Taylor provides what is perhaps the clearest psychological study of the state of wakefulness ever published. Above all, he reminds us that it is our most natural state — accessible to us all, anytime, anyplace.
About the author:
Steve Taylor, PhD, is the author of several books on spirituality and psychology, including The Fall and Waking from Sleep. He has also published two books of poetic spiritual reflections, including The Calm Center. He is a senior lecturer in psychology at Leeds Beckett University in the United Kingdom. Since 2011, he has appeared annually in Mind, Body, Spirit magazine's list of the world's "100 most spiritually influential living people."
---
This week on Relationships 2.0 my guest is Ben Sedley author of Stuff That Sucks: A Teen's Guide to Accepting What You Can't Change and Committing to What You Can.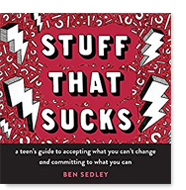 About the book:
Sometimes everything sucks. This unique, illustrated guide will help you move past negative thoughts and feelings and discover what truly matters to you.
If you struggle with negative thoughts and emotions, you should know that your pain is real. No one should try to diminish it. Sometimes stuff really does suck and we have to acknowledge it. Worry, sadness, loneliness, anger, and shame are big and important, but they can also get in the way of what really matters. What if, instead of fighting your pain, you realized what really matters to you—and put those things first in life? If you did that, maybe your pain wouldn't feel so big anymore. Isn't it worth a try?
Stuff That Sucks offers a compassionate and validating guide to accepting emotions, rather than struggling against them. With this book as your guide, you'll learn to prioritize your thoughts, feelings, and values. You'll figure out what you care about the most, and then start caring some more! The skills you'll learn are based on acceptance and commitment therapy (ACT). Yes, there are a few written exercises, but this isn't a workbook. It's a journey into the stuff that sucks, what makes that sucky stuff suck even more, and how just a few moments each day with the stuff that matters will ultimately transform the stuff that sucks into stuff that is just stuff. Make sense?
Maybe you want to be more creative? Or maybe you simply want to do better in school or be a better friend? This book will show you how to focus on what you really care about, so that all that other sucky stuff doesn't seem so, well, sucky anymore.
About the author:
Ben Sedley is a clinical psychologist and acceptance and commitment therapy (ACT) practitioner with over fifteen years of experience working with kids, adolescents, and families facing mental health difficulties.
He is also the father of three wonderful noisy kids and loves The Ramones and The Clash.
---
This week my guest is Linda Lehrhaupt, PhD author of Mindfulness-Based Stress Reduction: The MBSR Program for Enhancing Health and Vitality.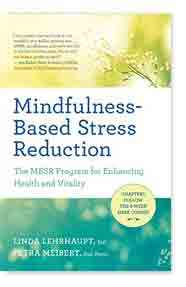 About the book:
Practicing mindfulness helps us meet life's challenges with gentleness and clarity. By fully engaging in the present moment as best we can, we nurture our capacity to approach difficulties with less judgment and water the seeds of wisdom and openheartedness in ourselves. This book offers a concise and thorough immersion in the eight-week Mindfulness-Based Stress Reduction (MBSR) course developed by Dr. Jon Kabat­-Zinn. It features straightforward instruction in the main exercises of MBSR – sitting meditation, walking meditation, eating meditation, yoga, body scan, and informal, everyday practices. MBSR has been shown to help alleviate symptoms associated with chronic illness, anxiety, pain, burnout, cancer, and other stress-related conditions.
The authors, two leading MBSR teacher trainers, provide step-by-step instructions as well as illustrative real-life examples. Readers embarking on a course in MBSR will find clear guidance, trainers will gain a valuable tool for their teaching, and anyone experiencing or receiving treatment for challenges of mind, body, or spirit will find practical, inspirational help.
About the author:
Linda Lehrhaupt, PhD, is the founder and executive director of the Institute for Mindfulness-Based Approaches and one of Europe's most senior MBSR teachers.
---
This week my guest is Sally M. Winston, PsyD co-author of Overcoming Unwanted Intrusive Thoughts: A CBT-based Guide to Getting Over Frightening, Obsessive, or Disturbing Thoughts.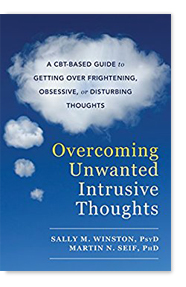 About the book:
You are not your thoughts! In this powerful book, two anxiety experts offer proven-effective cognitive behavioral therapy (CBT) skills to help you get unstuck from disturbing thoughts, overcome the shame these thoughts can bring, and reduce your anxiety.
If you suffer from unwanted, intrusive, frightening, or even disturbing thoughts, you might worry about what these thoughts mean about you. Thoughts can seem like messages—are they trying to tell you something? But the truth is that they are just thoughts, and don't necessarily mean anything. Sane and good people have them. If you are someone who is plagued by thoughts you don't want—thoughts that scare you, or thoughts you can't tell anyone about—this book may change your life.
In this compassionate guide, you'll discover the different kinds of disturbing thoughts, myths that surround your thoughts, and how your brain has a tendency to get "stuck" in a cycle of unwanted rumination. You'll also learn why common techniques to get rid of these thoughts can backfire. And finally, you'll learn powerful cognitive behavioral skills to help you cope with and move beyond your thoughts, so you can focus on living the life you want. Your thoughts will still occur, but you will be better able to cope with them—without dread, guilt, or shame.
If you have unwanted thoughts, you should remember that you aren't alone. In fact, there are millions of people just like you—good people who have awful thoughts, gentle people with violent thoughts, and sane people with "crazy" thoughts. This book will show you how to move past your thoughts so you can reclaim your life!
About the author:
Sally M. Winston, PsyD, founded and codirects the Anxiety and Stress Disorders Institute of Maryland in Towson, MD. She served as the first chair of the Clinical Advisory Board of the Anxiety and Depression Association of America (ADAA), and received their prestigious Jerilyn Ross Clinician Advocate Award. She is a master clinician who has given sought-after workshops for therapists for decades. She is coauthor of What Every Therapist Needs to Know About Anxiety Disorders.
---
This week my guest is Maria Felipe author of Live Your Happy: Get Out of Your Own Way and Find the Love Within.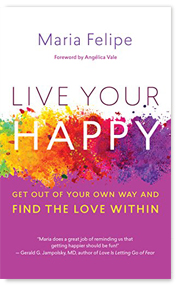 About the book:
Banish Fear, Encounter Love!

Inspired, lively, and fun, Maria Felipe's real-world approach to living based on A Course in Miracles will guide you toward a life released from fear and doubt and filled with joy and power. In nine crystal-clear chapters, Maria shows you how to banish the "cuckoo voice of the ego" and connect with your internal teacher, accessing unlimited love and strength. Her stories, shared from her own life and from her students' experiences, demonstrate that with a willing attitude and an open heart, true happiness isn't just possible — it's inevitable!
About the author:
Rev. Maria Felipe, a Cuban American born in Miami, found success as a model and actress before following a spiritual path that led her to study A Course in Miracles. She became an ordained minister at Pathways of Light and now leads monthly services in both Spanish and English at Unity Church in Burbank, California.
---
This week my guest is Laura Doyle author of The Empowered Wife: Six Surprising Secrets for Attracting Your Husband's Time, Attention, and Affection.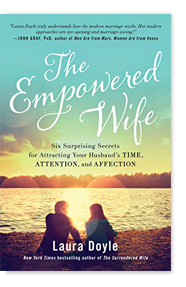 About the book:
Can a wife single-handedly bring a boring or broken marriage back to life? This improved and expanded edition of Laura Doyle's acclaimed First, Kill All the Marriage Counselors features real-life success stories from empowered wives who have done just that–and provides a step-by-step guide to revitalizing your own marriage.
Laura Doyle's marriage was in trouble, and couples counseling wasn't helping. On the brink of divorce, she decided to talk to women who'd been happily married for over a decade, and their advice stunned her. From it, she distilled Six Intimacy Skills–woman-centric practices that ended her overwhelming resentment, restoring the playfulness and passion in her marriage.
Now an internationally-recognized relationship expert, Doyle has shared her secrets with women around the globe, saving thousands of marriages with her fresh, revolutionary approach.
Practical and counter-intuitive, the Six Intimacy Skills are about focusing on your own desires and transforming your own life–not bending over backwards to transform your husband.
Incorporating these skills will empower you to:
Attract his attention like a magnet when you relax more and do less
Receive affection not because you told him to make more of an effort, but because he naturally seeks you out
Feel more like yourself–and like yourself moreIf you've been trying to "fix" your relationship and it's not working, maybe the problem was never you, or your husband, or even the two of you as a couple. Maybe the problem is that nobody ever taught you the skills you need to foster respect, tenderness, and consideration. With humor and heart, The Empowered Wife shows you how to improve your relationship in ways you hadn't thought possible. You'll join a worldwide community of over 150,000 empowered wives who finally have the marriages they dreamed of when they said "I do."
About the author:
Laura Doyle is a New York Times Best Selling Author of The Surrendered Wife, The Surrendered Single and First, Kill All the Marriage Counselors. Over 150,000 women credit her with helping them revitalize the intimacy in their relationships using the system in her Surrendered Wife, Empowered Woman Program for wives and girlfriends. To watch her free training program on how to become desired, cherished and adored for life, visit http://lauradoyle.org/
Laura has appeared on CBS Evening News, Dateline NBC, The Today Show and The View. She has been written about in The Wall Street Journal, the New York Times, the Los Angeles Times, The Washington Post, The London Telegraph and The New Yorker. She is a regular contributor to The Huffington Post and the founder of Laura Doyle Connect, a multi-national company that provides relationship coaching for single women, girlfriends and wives all over the world. Her books have been translated into 16 languages and published in 27 countries.
---