My Radio Show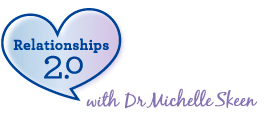 On my radio show, Relationships 2.0, I interview guests who present their unique perspectives and expertise on topics that cover all aspects of relationships. The authors and experts I chat with offer advice and tips for understanding ourselves and others better.
The show airs Thursdays on:
AM 1520 / 99.5 FM – Las Vegas, NV – 8:00 AM (PT)
101.5 FM – Long Beach, CA – 8:00 AM (PT)
96.3 FM – Boulder, CO – 9:00 AM (MT)
87.9 FM – Colorado Springs, CO – 9:00 AM (MT)
90.3 FM – Milwaukee, WI – 10:00 AM (CT)
AM 810 / 87.9 FM – Macon, GA – 11:00 AM (ET)
94.7 FM – Pittsburgh, PA – 11:00 AM (ET)
AM 1640 / 102.1 FM – Lancaster, PA – 11:00 AM (ET)
AM 1630 / 102.1 FM – Tampa, FL – 11:00 AM (ET)
90.3 FM – Jacksonville, FL – 11:00 AM (ET)
If you missed the radio station broadcasts, you can download my podcasts from iTunes, or go to the podcast archive page. Some past shows are also available on the video archive page.
Or subscribe to my podcast

If you would like to search for a past show using keywords, see my blog.
---
APRIL – JUNE, 2018
This week my guests are Rebecca Williams PhD and Julie Kraft MA, LMFT authors of The Gift of Recovery: 52 Mindful Ways to Live Joyfully Beyond Addiction.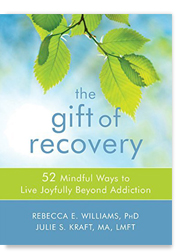 About the book:
If you're recovering from addiction, The Gift of Recovery offers quick, in-the-moment tips and tricks to help you cope with daily stress and stay firmly on the path to wellness. With this gentle, easy-to-use guide, you'll learn how to navigate relationships, take time for self-care, and build a mindful, sustainable, and joyful recovery.
Deciding to get help for addiction is the first step toward recovery. But addiction recovery doesn't happen all at once—it's something that must be worked for, every day. Sometimes, it will be easy. When things are going well, you may not be tempted to give in to your cravings. But when life is stressful, you'll need strategies to help you cope.
Written by the authors of The Mindfulness Workbook for Addiction, this on-the-go mindfulness guide offers fifty-two powerful and effective meditations to help you manage the stress, depression, and strong emotions that can get in the way of a full and lasting recovery. You'll also find skills based in cognitive behavior therapy (CBT), dialectical behavior therapy (DBT), and acceptance and commitment therapy (ACT) to help you stay grounded, as well as links to online resources.
Deciding to overcome an addiction can feel like leaving a relationship. It's hard and sometimes lonely—but it is truly an act of courage. This book will help guide you as you continue making courageous steps toward peace, joy, and fulfillment.
About the authors:
Rebecca E. Williams, PhD, is an award-winning author, consultant, and clinical psychologist specializing in healthy recovery from mental illness and addiction. Her work focuses on building resilience and embracing well-being. She is associate clinical professor of psychiatry at the University of California, San Diego, and program director at the Veterans Affairs San Diego Health Care System.
Julie S. Kraft, MA, LMFT, is a licensed marriage and family therapist. She has been working in the fields of addiction and mental health since 2008. Julie is an adjunct faculty member at the University of San Diego, where she teaches systemic treatment of substance abuse. Julie has a private practice in San Diego, CA, where she works to help her clients find all the gifts that they deserve.
Williams and Kraft are coauthors of The Mindfulness Workbook for Addiction, which won the San Diego Book Award. Their workbook has been translated into Korean.
---
This week my guest is Rachel Hershenberg, PhD author of Activating Happiness: A Jump-Start Guide to Overcoming Low Motivation, Depression, or Just Feeling Stuck.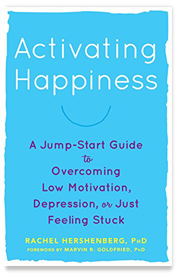 About the book:
It's not just big choices that can radically change our lives—sometimes it's the small ones. Activating Happiness offers powerful, evidence-based strategies to help you conquer low motivation, nix negative moods, and defeat depression by actively making positive choices in small, everyday moments.
If you have depression or just suffer from low mood and lack of motivation, you know that your life isn't going to change with one grand, sweeping gesture. But you can make important decisions every day—whether it's getting off the couch and going for a walk, signing up for a course in pottery or screenwriting, or just setting aside some time to meet and chat with a good friend over coffee. These little things won't change your life all at once. But over time, they will shape the way you live and see the world and keep you on a path to wellness.
In Activating Happiness, you'll find solid strategies based in behavioral activation and acceptance and commitment therapy (ACT) to help you break the cycle of avoidance, guilt, shame, and hopelessness that can take hold when you're feeling your lowest. Using this guide, you'll find little, doable ways to "show up" to your life, get the ball rolling, and start really feeling better, instead of just reassuring others. You'll learn to set healthy goals for your body like eating and sleeping well, as well as healthy goals for your mind. Most importantly, you'll discover how to view your life through the lens of your own deepest values, which will spark a commitment to real, lasting change.
The best thing about change is that you can start anywhere. By building a life—moment by moment—of rewarding behaviors that correspond to your values, you have the recipe for getting and staying well at your fingertips. This book will guide your way.
About the author:
Rachel Hershenberg, PhD, is a licensed clinical psychologist specializing in the research and treatment of depression. She is assistant professor of psychiatry and behavioral sciences at Emory University, and director of psychotherapy in Emory's Treatment Resistant Depression program. She has published over twenty-five peer-reviewed publications and has appeared as a guest specialist on local radio.
---
JANUARY – MARCH, 2018
This week my guest is F. Diane Barth author of I Know How You Feel: The Joy and Heartbreak of Friendship in Women's Lives.
About the book:
"Do I have enough friends?" "Why did my friendship end?" and "What makes a good friendship work?"
These are questions that F. Diane Barth, a psychotherapist widely recognized for her expertise in women's relationships, fields all the time. In I Know How You Feel, she draws out engaging stories from a lively and diverse cast of women, many of whom speak about feelings they haven't shared before. She explores how life changes affect women's friendships in subtle and not-so-subtle ways. Interweaving examples from classic women's literature to chick flicks, she provides grounded advice on how to manage betrayal and rejection, how to deal with a narcissistic or bossy friend, what to do when your best friend and your family don't get along, how to let go of a friendship that has stopped working, and much more. A timely, empathetic guide for women in their twenties to their sixties and beyond.
About the author:
F. Diane Barth, L.C.S.W., is a psychotherapist and psychoanalyst in private practice in New York City where she works with adults and adolescents, individuals and families and runs private study groups.
She has a B.A. and an M.S.W. from Columbia University and graduated as a certified psychoanalyst from the Postgraduate Center.
Her articles have been published in the Clinical Social Work Journal, Psychoanalytic Dialogues, Psychoanalytic Psychology, and other professional journals, and as chapters in numerous books.
Her Psychology Today blog has a current count of over 7.5 million.
---
This week my guest is Larry Ruhl author of Breaking the Ruhls: A Memoir.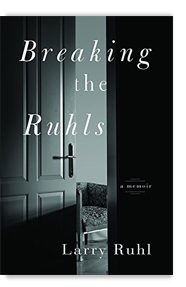 About the book:
A profoundly personal account of the impact of complex trauma on a man's life.Larry Ruhl's father sought comfort from his only son, smothering him not only with his affection, but his sexuality?blurring critical boundaries that would prove deeply debilitating. Larry's mother, with her spiraling, ever-changing mental illness kept the family in a constant state of anxiety. By the time Larry graduated from high school, overwhelming sadness and suicidal thoughts took root, plaguing him for decades.Breaking the Ruhls will resonate deeply with many who have experienced similar trauma, boundary violations, and abuse within the family. Ruhl mines his own experiences with sexual confusion, addiction and recovery, relationships, career struggles, and therapeutic breakthroughs, while demonstrating it is possible to heal and thrive.
Ninety-three percent of juvenile sexual assault victims knew their perpetrators. For 80 percent of those, that perpetrator was a parent.
Shines a spotlight on complex trauma involving sexual abuse and help others shed the shame that sexual abuse survivors unfairly carry.
About the author:
Larry Ruhl serves as a board member for Taking Back Ourselves, which facilitates weekends of recovery for survivors of sexual abuse, and is a registered speaker with RAINN (Rape Abuse Incest National Network). He previously served as a board member at Male Survivor, a leading organization in the fight to improve the resources and support available to male survivors of all forms of sexual abuse. Today he takes meetings into addiction treatment centers as a way to shed shame and draw the parallels between addiction and sexual abuse.
---
This week my guest is Mark Coleman author of Awake in the Wild: Mindfulness in Nature as a Path to Self-Discovery.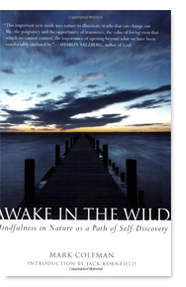 About the book:
"Nature deficit disorder" has become an increasingly challenging problem in our hyper modern world. In Awake in the Wild, Mark Coleman shows seekers how to remedy this widespread malady by reconnecting with nature through Buddhism. Each short (two to three pages) chapter includes a concrete nature meditation relating to such topics as Attuning to the Natural World, Reflecting the Rhythms of Nature, Walking with Compassion, Releasing the Inner Noise, Freeing the Animal Within, Coming into the Peace of Wild Things, Weathering the Storms of Life, and more. Incorporating anecdotes from the author's many nature retreats, Buddhist wisdom and teachings, important nature writings by others, and nature itself, the book invites readers to participate in, not just observe, nature; develop a loving connection with the earth as a form of environmental activism; decrease urban alienation through experiencing nature; embody nature's peaceful presence; and connect with ancient spiritual wisdom through nature meditations.
About the author:
Mark is an inner and outer explorer, who has devotedly studied mindfulness meditation practices for three decades. He is passionate about sharing the power of meditation and has been teaching mindfulness workshops and meditation retreats in six continents for the past fifteen years. Mark holds a MA in Clinical Psychology and works individually with people as an executive coach and consultant, drawing on his extensive experience in working with people as a therapist. Mark is a senior meditation teacher at Spirit Rock Meditation Center, a renowned leader in the mindfulness field, and teaches regularly with pioneering teachers such as Jack Kornfield and Sharon Salzberg.
Mark has always been keen to share the fruits of meditation to wider audiences and founded The Mindfulness Institute, where he has brought mindfulness trainings to Fortune 500 companies and the non profit sector across North America and Europe. Through the Mindfulness Training Institute Mark leads Professional Mindfulness Teacher Trainings in the US and UK annually. Mark is a trainer for Search Inside Yourself Leadership Institute, developed at Google and leads their mindfulness and emotional intelligence leadership programs worldwide.
Mark is writer and author of Make Peace with Your Mind: How Mindfulness and Compassion Can Help Free You from the Inner Critic, and Awake in the Wild: Mindfulness in Nature as a Path of Self-Discovery. He is an unabashed nature lover and through his organization Awake in the Wild, Mark likes nothing more than sharing his passion for integrating meditation and nature. He has led wilderness meditation retreats from Alaska to Peru, taking people on inner and outdoor adventures.
---
This week my guest is Julie M. Simon author of When Food Is Comfort: Nurture Yourself Mindfully, Rewire Your Brain, and End Emotional Eating.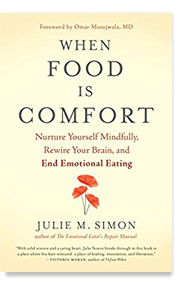 About the book:
If you regularly eat when you're not truly hungry, choose unhealthy comfort foods, or eat beyond fullness, something is out of balance. Recent advances in brain science have uncovered the crucial role that our early social and emotional environment plays in the development of imbalanced eating patterns. When we do not receive consistent and sufficient emotional nurturance during our early years, we are at greater risk of seeking it from external sources, such as food. Despite logical arguments, we have difficulty modifying our behavior because we are under the influence of an emotionally dominant part of the brain.
The good news is that the brain can be rewired for optimal emotional health. When Food Is Comfort presents a breakthrough mindfulness practice called Inner Nurturing, a comprehensive, step-by-step program developed by an author who was herself an emotional eater. You'll learn how to nurture yourself with the loving-kindness you crave and handle stressors more easily so that you can stop turning to food for comfort. Improved health and self-esteem, more energy, and weight loss will naturally follow.
About the author:
Julie M. Simon, MA, MBA, LMFT, is a licensed psychotherapist and life coach with more than twenty-seven years of experience helping overeaters stop dieting, heal their relationships with themselves and their bodies, lose excess weight, and keep it off. She is the author of The Emotional Eater's Repair Manual and the founder of the popular Twelve-Week Emotional Eating Recovery Program. She lives in Los Angeles.
---
This week my guest is Meriflor Toneatto author of Money, Manifestation and Miracles: A Guide to Transforming Women's Relationships With Money.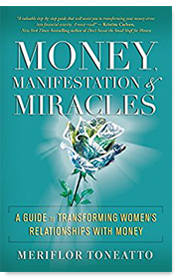 About the book:
When women are empowered with money, they become "difference makers." They transform not only their own lives but also those of their children, their families, and their communities at large. Author Meriflor Toneatto, an award-winning leadership and coaching executive, shows you how to extend your limits and create the life of your dreams, one that is rich and fulfilling in every way — financially, spiritually, and emotionally. This powerful book explains how money is "emotional currency" and prescribes eight Holistic Principles that help you overcome deep-seated blocks, "pay forward" your own successes, and live the life of your dreams.
About the author:
Meriflor Toneatto is a professional coach, speaker, and entrepreneur. She is the CEO and founder of Power With Soul and creator of the Millionaire Difference Makers™ Path, specializing in helping ambitious women entrepreneurs, professionals, and leaders reach financial prosperity and success while fulfilling their social promise in the world. She lives in Toronto, Canada.
---
This week my guest is Victoria Price author of The Way Of Being Lost: A Road Trip to My Truest Self.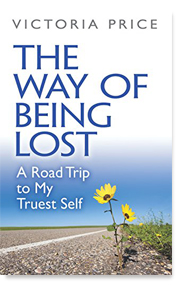 About the book:
After a tumultuous period of crisis, Victoria Price rebuilt her life by embracing a daily practice of joy, healing childhood wounds and reconnecting to the example set by her father Vincent, the famed actor. Her journey involved stepping away from externalities and into her father's legacy — his love for people and compassion for others, his generosity of spirit and simple kindnesses, his enthusiasm for new experiences, and his love of life.
"As I've gotten older, I've come to understand that every day, in everything we do, we have a choice — between expanding into our lives or contracting into our fears, into saying Yes! to life … or saying No," Victoria observes. This intimate and inspiring book shares the lessons learned from a powerful family heritage of remaining curious, giving back, and saying Yes. Join her as she shares the stories, experiences, and lessons that led her back to her truest self, including her lifesaving daily practice of joy.
About the author:
Victoria Price is the author of the critically acclaimed Vincent Price: A Daughter's Biography. A popular inspirational speaker on topics ranging from art collecting and design to creativity and spirituality, as well as the life of her famous father, Price has appeared on Good Morning America, A&E's Biography, and NPR's Fresh Air and Morning Edition. Her work has been featured in USA Today, People, Travel & Leisure, Art & Auction, and The New York Times.
---
This week my guest is Corinne Zupko author of From Anxiety to Love: A Radical New Approach For Letting Go of Fear and Finding Lasting Peace.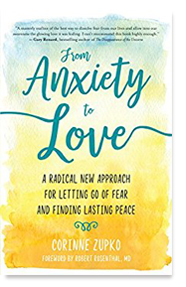 About the book:
Author Corinne Zupko undertook her study of psychology out of necessity when debilitating anxiety threatened to derail her life. Seeking ways to do more than temporarily alleviate her symptoms, Corinne began to study A Course in Miracles (ACIM), mindfulness meditation, and the latest therapeutic approaches for treating anxiety. In From Anxiety to Love, she shares what she learned and gently guides you through the process, helping you undo anxiety-based thinking and fostering mindful shifts in your thoughts and actions. Whether struggling with everyday stress or near-crippling discomfort, you will find that Corinne's approach offers a new way of healing from — rather than just coping with — fear and anxiety.
About the author:
Corinne Zupko, EdS, LPC, has coached, counseled, and educated thousands of individuals at national conferences, in the classroom, in workshops, and in the therapy chair. She teaches weekly meditation classes for corporate clients and cohosts the largest virtual conference of ACIM in the world through the organization Miracle Share International, which she cofounded.
---
This week my guest is Pankaj Vij, MD, FACP author of Turbo Metabolism: 8 Weeks to a New You, Preventing and Reversing Diabetes, Obesity, Heart Disease, and Other Metabolic Diseases by Treating the Causes.
About the book:
As the modern Western lifestyle spreads around the globe, so too does metabolic syndrome — a cluster of symptoms that increases the risk of developing heart disease, stroke, diabetes, and other conditions. The good news: metabolic syndrome can be tamed by a sensible program of exercise, natural foods, stress management, and quality sleep. In this concise and lively book, Dr. Vij distills a mass of medical research into a simple, effective program for vibrant health. Avoiding fads and gimmicks, he provides practical advice, case studies of ordinary people, and brief sections that debunk common medical myths. By following Dr. Vij's evidence-based methods, you can manage diabetes, avoid related metabolic conditions, lose weight, and live a healthier, happier life with energy to spare.
About the author:
Pankaj Vij, MD, FACP, has helped thousands of patients lose weight, manage chronic health conditions, and improve their physical fitness. Board certified in internal medicine and obesity medicine, Dr. Vij has been practicing medicine since 1997. He lives in the San Francisco Bay Area.
---
This week my guest is Beth Ann Mulligan author of The Dharma of Modern Mindfulness: Discovering the Buddhist Teachings at the Heart of Mindfulness-Based Stress Reduction.
About the book:
Deeply embedded in the practice of contemporary mindfulness-based stress reduction (MBSR) are concepts drawn from the ancient wisdom of meditative traditions. The Dharma of Modern Mindfulness uncovers the essential Buddhist teachings at the heart of this powerful anti-stress program, enabling you to deepen your historical and spiritual understanding of MBSR and nourish your practice.
Meditation and mindfulness are everywhere: in hospitals, clinics, and schools; in major medical, psychological, and scientific journals; on TV; and in popular publications—even on the cover of Timemagazine. And thankfully so—since Jon Kabat-Zinn developed MBSR, a treatment blending meditation and yoga, it has been proven effective in treating conditions like chronic pain, stress, anxiety, and depression for sufferers around the world. Lesser known, however, are the deep philosophical roots of MBSR known as the Buddhist dharma, translated as "the teachings of the Buddha." Although they form the very foundation underlying MBSR and other mindfulness-based interventions, they often remain hidden within modern mindfulness practices.
The Dharma of Modern Mindfulness illuminates these cornerstones, communicating previously esoteric teachings with language that makes them easily accessible and applicable to your complex daily life. The book follows the structure of an eight-week MBSR class, paralleling the participant's journey with that of the Buddha for the alleviation of suffering. With real-life examples, guided reflections, and practices throughout, this book will show you the connections between the ancient wisdom of Buddhism and contemporary MBSR.
Regardless of your background, status, or education, and whether you're a practitioner, teacher, or trainer, this invitation to explore the essential Buddhist teachings at the heart of modern mindfulness—such as the four noble truths, the noble eightfold path, and the four brahmaviharas: loving-kindness, compassion, empathetic joy, and equanimity—will expand your understanding and enhance your practice, and, in doing so, connect you with your inner wisdom and deepest humanity.
About the author:
Beth Ann Mulligan, PA-C, graduated magna cum laude from the Duke University School of Medicine physician assistant program in 1982, and has practiced primary care medicine with diverse populations for the past thirty years. She is a certified mindfulness-based stress reduction (MBSR) teacher and international teacher trainer for the University of Massachusetts Medical School Center for Mindfulness, as well as a certified mindful self-compassion (MSC) teacher and international teacher trainer. She teaches MBSR, MSC, and mindful eating at the Susan Samueli Center for Integrative Medicine and at InsightLA, and has been a presenter at the International Scientific Conference on Mindfulness. The Guiding Dharma teacher at Insight Community of the Desert, and a longtime senior student at Yokoji Zen Mountain Center, she leads meditation retreats across the country.
---
This week my guest is Daniel S. Lobel, PhD author of When Your Daughter Has BPD: Essential Skills to Help Families Manage Borderline Personality Disorder.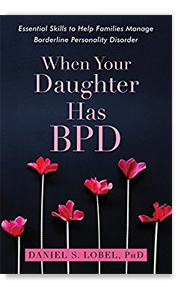 About the book:
In this groundbreaking book, psychologist Daniel Lobel offers essential skills based in dialectical behavior therapy (DBT) and cognitive behavioral therapy (CBT) to help you understand your daughter's disorder, define appropriate boundaries, put an end to daily emergencies, and rebuild the family's structure from the ground up.
If you have a daughter with borderline personality disorder (BPD), you may feel frustration, shame, and your family may be at the breaking point dealing with angry outbursts, threats, and constant emergencies. You may even feel guilty for not enjoying spending time with your child—but how can you when her behavior is abusive toward you and the rest of your family? You need solid skills you can use now to help your daughter and hold your family together.
In this important guide, you'll learn real solutions and strategies based in proven-effective DBT and CBT to help you weather the storm of BPD and restore a sense of normalcy and balance in your life. You'll find an overview of BPD so you can better understand the driving forces behind your daughter's difficult behavior. You'll discover how you can help your daughter get the help she needs while also setting boundaries that foster respect and self-care for you and others in your family. And, most importantly, you'll learn "emergency parenting techniques" to help you put a stop to abusive patterns and restore peace.
If your daughter has BPD and your family is struggling to make it through each day, this book offers essential skills to help you cope and recover a sense of stability.
About the author:
Daniel S. Lobel, PhD, is assistant clinical professor of psychiatry at the Icahn School of Medicine at Mount Sinai, and has given classes at both State University of New York (SUNY) at Purchase and the State University of New York College of Optometry. He has written chapters in many textbooks and contributes frequently as a guest blogger on the Psychology Today website. Lobel is a psychologist with a private practice. He resides in Katonah, NY.
---
This week my guest is Jeffrey Bernstein, PhD author of Mindfulness for Teen Worry: Quick & Easy Strategies to Let Go of Anxiety, Worry & Stress.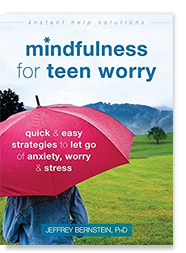 About the book:
Is your worrying keeping you from reaching your goals? In Mindfulness for Teen Worry, a clinical psychologist offers quick, easy-to-learn mindfulness skills teens can use anytime, anywhere to stop worries from growing and taking over.
Let's face it—being a teen isn't easy. And if you're like a lot of other teens, you probably worry about getting good grades, fitting in with a certain crowd, or what the future will bring after high school. These are all completely normal worries, and signs that you are tuned in to your life and thinking about your goals. But what about chronic worrying—the kind that keeps you up at night, ruminating about that paper you just turned in, or that thing your friend said to you at lunch (what did she mean by that?), and so on. Sometimes worrying isn't helpful. In fact, it can get in the way of living your life! So, how can you start putting worry in its place before it takes up too much head space?
Mindfulness for Teen Worry will show you how living in the moment will dissolve worry and help you stay grounded in the here and now. You'll learn powerful and easy-to-use mindfulness skills to manage the four most common worry struggles teens face: school pressure, coping with friendship and relationship problems, improving body image, and handling family conflicts. You'll discover why you worry and the long-term destructive impacts worry can have on your life. And most importantly, you'll be introduced to simple, effective techniques to help you become more mindful—like harnessing the power of the breath and how to relax your body in times of stress.
If you struggle with worry or anxiety that gets in the way of being your best, this fun and friendly guide will help you maintain a mindful life in a frenzied world.
About the author:
Jeffrey Bernstein, PhD, is a psychologist with over thirty years' experience specializing in child, adolescent, couples, and family therapy. He holds a PhD in counseling psychology from the University at Albany, State University of New York, and completed his postdoctoral internship at the Center for Counseling and Psychological Services at the University of Pennsylvania. He has served as an expert advisor for The Today Show, Court TV, CBS Eyewitness News, NBC 10 – Philadelphia, and appeared on National Public Radio. He has authored five books, including 10 Days to a Less Defiant Child, 10 Days to Less Distracted Child, Liking the Child You Love, Why Can't You Read My Mind?, and Letting Go of Anger, a card deck for teens.
---
This week my guest is Martin Antony PhD author of The Shyness & Social Anxiety Workbook: Proven, Step-by-Step Techniques for Overcoming Your Fear.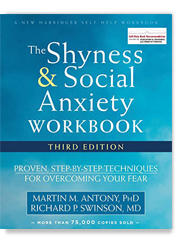 About the book:
There's nothing wrong with being shy. But if shyness or social anxiety keeps you from building meaningful relationships with others, advancing in your education or career, or simply living your best life, The Shyness and Social Anxiety Workbook offers a comprehensive program to help you confront your fears and become actively involved in the world.
If you are shy or socially anxious, you may dread going to parties, speaking in front of crowds or people you don't know, going to job interviews, and other critical life situations. You aren't alone. In fact, studies show that millions of people suffer from a social anxiety disorder. Unfortunately, you can't hide from some social situations—no matter how much you wish you could. But you don't have to go on suffering silently. The good news is there are proven-effective techniques you can start using right away to help ease your anxiety or shyness and start living the life you were meant to live: a life where fear doesn't get in the way of reaching your goals.
This fully revised and updated third edition incorporates breakthrough new research and techniques for overcoming social phobia, including a new chapter on mindfulness-based treatments, updated information on medications, and an overview of treatment-enhancing technological advances. As you complete the activities in this workbook, you'll learn to find your strengths and weaknesses using self-evaluation, explore and examine your fears, create a personalized plan for change, and put your plan into action through gentle and gradual exposure to the very social situations that cause you to feel uneasy. After completing this program, you'll be well-equipped to make connections with the people around you. Soon, you'll be on your way to enjoying all the benefits of being actively involved in the social world.
If you're ready to confront your fears to live an enjoyable, satisfying life, this new edition of The Shyness and Social Anxiety Workbook offers a comprehensive program to help you get started. What are you waiting for?
This book has been awarded The Association for Behavioral and Cognitive Therapies Self-Help Seal of Merit—an award bestowed on outstanding self-help books that are consistent with cognitive behavioral therapy (CBT) principles and that incorporate scientifically tested strategies for overcoming mental health difficulties. Used alone or in conjunction with therapy, our books offer powerful tools readers can use to jump-start changes in their lives.
About the author:
Martin M. Antony, PhD, is professor and chair in the department of psychology at Ryerson University in Toronto, Canada. He is also director of research at the Anxiety Treatment and Research Centre at St. Joseph's Healthcare, Hamilton, Ontario, and a past president of the Canadian Psychological Association. An award-winning researcher, Antony is coauthor of When Perfect Isn't Good Enough, and more than 25 other books. His research, writing, and clinical practice focus is on cognitive behavioral therapy and the treatment of anxiety disorders. He has been widely quoted in the American and Canadian media.
---