2019: Estonian edition of Just As You Are: A Teen's Guide to Self-Acceptance & Lasting Self-Esteem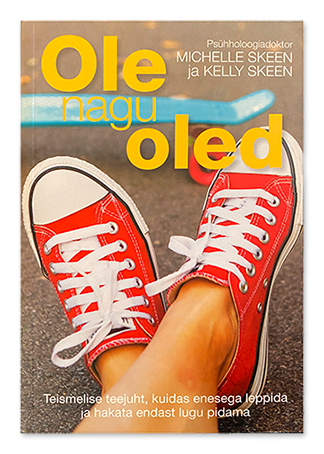 June 2018: My daughter's and my new book released
Just As You Are: A Teen's Guide to Self-Acceptance & Lasting Self-Esteem

Co-authored with Kelly Skeen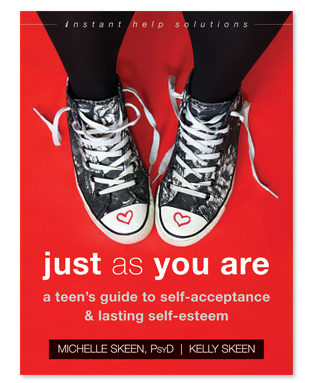 July 2017: My new book released

The CBT Anxiety Solution Workbook: A Breakthrough Treatment for Overcoming Fear, Worry, and Panic
Co-authored with Matthew McKay PhD and Patrick Fanning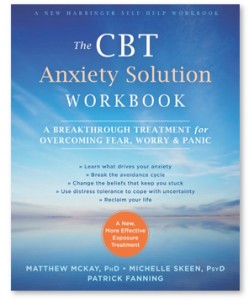 You are stronger than your anxiety! In this important workbook, best-selling authors Matthew McKay, Patrick Fanning, and Michelle Skeen offer a breakthrough anxiety solution based in cognitive behavioral therapy (CBT) to help you understand and overcome your fears and worries, rather than try to avoid them.
If you suffer from an anxiety disorder, you may try to avoid situations that cause you to feel worry, fear, or panic. You may even believe that terrible things will happen to you if you face the things that make you anxious. But avoidance isn't a long-term solution, and in the end it may result in more anxiety. This book shows you how the simple belief that you can endure your worries and fears—both mentally and physically—can be an extremely powerful treatment.
Using a breakthrough approach combining proven-effective CBT and exposure therapy, this workbook helps you understand how worry and rumination drive anxiety, and offers practical exercises to help you adopt new habits of observing your thoughts, rather than accepting them as the "ultimate truth." You'll also develop mindfulness and self-soothing coping skills to help you manage anxiety in the moment, rather than avoid it. Over time these practices will show you that you are more powerful than your anxiety.
If you've been stuck in a cycle of anxiety and avoidance, this workbook will help you make the changes you need to get your life back.
June 2015: Dreams really do come true
My daughter, Kelly, and I co-authored a book together.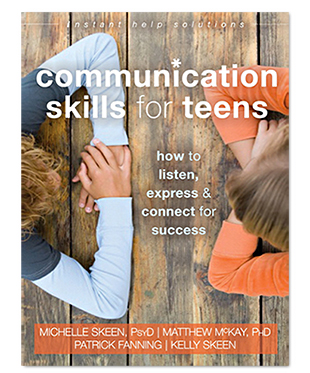 Communication is an essential life skill that every teen must learn. Based on the New Harbinger classic, Messages, this book will teach you the necessary skills—such as assertiveness, active listening, and compassion—to become an effective communicator for life.
In an age of social media, texting, and ever-evolving technology, it's easy to forget how to engage in real, face-to-face communication, a critical skill for your future success! As you become more connected to your smartphone and the internet, your ability to connect in person may diminish. But technology doesn't replace the need for effective communication skills. In fact, successful personal and professional relationships are dependent upon connecting with people face-to-face.
Communication Skills for Teens provides the guidance you need to become a better communicator and succeed in all areas of life. You'll also learn tons of essential life skills, including active listening, assertiveness, clarifying language, the art of an apology, compassion, interviewing skills, family communication, and more. Each chapter focuses on one key aspect of communication, offers a real teen's perspective, and includes practical exercises to help you apply what you've learned in the real world—away from your computer and smartphone screens.
By following the practical, skills-based tips in each chapter of this book, you'll learn powerful communication techniques to last a lifetime.
September 2014: My fourth book is released
Love Me Don't Leave Me: Overcoming Fear of Abandonment & Building Lasting, Loving Relationships
July 2013: Acceptance and Commitment Therapy for Interpersonal Problems available in German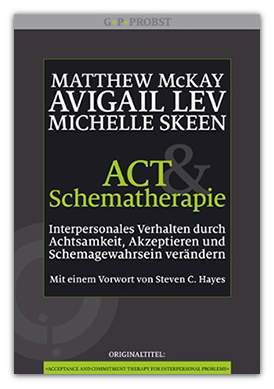 July 2013: My third book is available
The Interpersonal Problems Workbook: ACT to End Painful
Relationship Patterns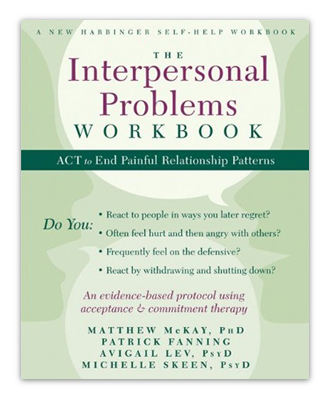 Description:
Do you often lash out at people? Do you let your emotions rule your interactions with others? Do you find it difficult to see things from others' point of view? You are not alone. Despite the fact that we all have to deal with other people our daily lives, many of us have difficulties with interpersonal relationships.
Written by psychologist and bestselling author Matthew McKay, The Interpersonal Problems Workbook combines research and evidence-based techniques for strengthening relationships in all areas in life—whether it's at home, at work, with a significant other, a parent, or a child. The skills in this workbook are based in both schema therapy and acceptance and commitment therapy (ACT), and are designed to help you connect and communicate effectively with those around them.
ACT has been proven effective in helping people improve their relationships with others. The ACT skills detailed in this book include present moment awareness, diffusion, and flexibility—all of which will help you to improve your relationships with others. In this book you will learn what your schema is, and how to act on your values to communicate and get along with others.
If you are ready to stop building walls and start connecting with those around you, this book presents powerful, effective tools for change.
February 2013: The Critical Partner
is released in German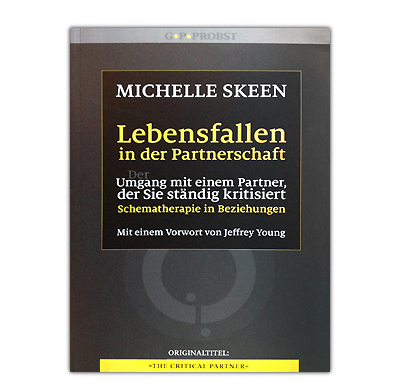 December 2012
Review by Doody's of ACT for Interpersonal Problems: Using Mindfulness, Acceptance, and Schema Awareness to Change Interpersonal Behaviors
Here is a short description of Doody's:
Doody Enterprises's principal editorial properties are Doody's Core Titles in the Health Sciences, Doody's Review Service and the unique custom filtering of the Medline® database. These databases have been fashioned into a variety of products:
Doody's Core Titles, an annual publication designed as a collection development tool for medical libraries
Doody's Review Service, a comprehensive subscription review service designed for medical libraries
MedInfoNow, a site license for medical societies, healthcare institutions, and healthcare corporations that can include both Doody's Book Reviews and custom filtering of Medline®
Doody's Book Reviews and Doody's Star Ratings®, licensed to content providers
Doody Enterprises delivers customized updates in the medical literature to more than 300,000 healthcare and health information professionals every week. In addition, through its licensing arrangments with other companies, it is estimated that more than 1,000,000 healthcare and health information professionals worldwide are exposed to Doody's Book Reviews or Doody's Star Ratings® on a consistent basis.
NEW REVIEW:
Acceptance and Commitment Therapy for Interpersonal Problems: Using Mindfulness, Acceptance, and Schema Awareness to Change Interpersonal Behaviors.
New Harbinger Publications, 2012, $39.95.
AUTHORS:
McKay, Matthew, PsyD; Lev, Avigail, PsyD; Skeen, Michelle, PsyD
BIBLIOGRAPHIC DATA:
ISBN: 978-1-60882-289-8, 204 pages, soft cover.
DOODY'S NOTES / REVIEWER'S EXPERT OPINION:
Howard A Fox, MA (Fielding Graduate University)
Description:
This book provides insight into how schema and acceptance therapy, with the addition of mindfulness techniques, provide an effective approach to helping clients gain an awareness of, and to reconcile, disruptive interpersonal behaviors.
Purpose:
The purpose is to provide techniques for integrating schema and acceptance-based interventions and tools together with mindfulness techniques to treat individuals who are presenting with interpersonal problems. Therapies that include mindfulness techniques seem to be at the forefront of much scholarly and nonscholarly writing. The authors provide sufficient background, examples, and tools for interested readers and practitioners to begin incorporating these techniques into their practice.
Audience:
Although intended for behavioral professionals at the MA, PhD level, this book also will be helpful to graduate students and professionally trained and accredited coaches who are familiar with an evidence-based approach.
Features:
The book notes the difficulties of treating individuals with interpersonal problems using commonly recognized approaches and details their shortcomings.
The authors proceed to introduce the 10 schemas that are associated with interpersonal issues and present easily reproducible tools that clients can begin to use to understand their specific situation and their method for coping. The book goes on to provide techniques to help clients understand the schema(s) that affect them, and to introduce them to techniques for changing their long-term patterns. Techniques and tools for moving the client toward recognizing the origin of their schema and to begin the transition to acceptance commitment therapy and mindfulness skills to change their situation are then presented. What surprised me was that much of the current scholarly, evidence-based, and lay practice writing about mindfulness has acknowledged the work of Jon Kabit-Zinn, but there is no mention of him in this book.
Assessment:
I found this book to be very helpful in providing an increased understanding of disruptive schema, acceptance and commitment therapy, and especially the mindfulness techniques. Books written at this level are highly accessible and serve to strengthen a belief in an evidence-based approach to serving clients.
———————————————————–
Weighted Numerical Score: 80 – 3 Stars
June 2012: My second book is released
Acceptance and Commitment Therapy for Interpersonal Problems:
Using Mindfulness, Acceptance, and Schema Awareness to Change Interpersonal Behaviors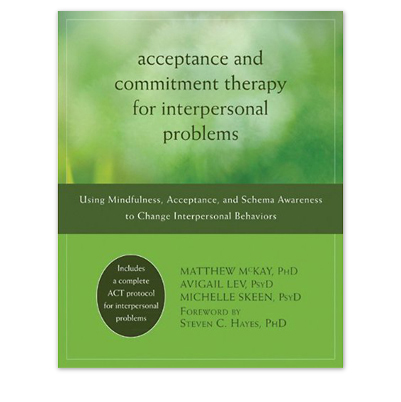 Acceptance and Commitment Therapy for Interpersonal Problems presents a complete treatment protocol for therapists working with clients who repeatedly fall into unhealthy patterns in their relationships with friends, family members, coworkers, and romantic partners. These clients may blame others, withdraw when feeling threatened, react defensively in conflicts, or have a deep-seated sense of distrust—all interpersonal problems that damage relationships and cause enormous suffering.
This book presents an acceptance and commitment therapy (ACT) approach—utilizing a schema-based formulation—to help these clients overcome maladaptive interpersonal behavior. First, clients learn how schema avoidance behavior damages their relationships. Second, clients face "creative hopelessness" and practice new mindfulness skills. Third, clients examine what they value in their relationships and what they hope to gain from them, and translate their values into clear intentions for acting differently in the future. And lastly, clients face the cognitive and emotional barriers standing between them and values-based behavior in their relationships. By learning to act on their values instead of falling into schema-influenced patterns, clients can eventually overcome the interpersonal problems that hold them back.
May 2012: Relationships 2.0 radio show is launched
I'm excited about my new radio show, Relationships 2.0, which airs on Tuesdays from 3-4:00 pm on KCAA AM-1050. I interview guests who present their unique perspectives and expertise on topics that cover all aspects of relationships in our lives!
April 2012: The Critical Partner is released in Dutch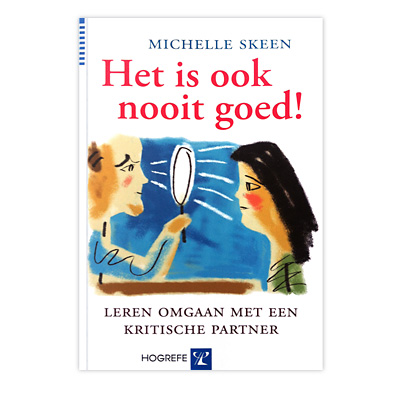 November 2011: My first book is released
The Critical Partner: How to End the Cycle of Criticism and
Get the Love You Want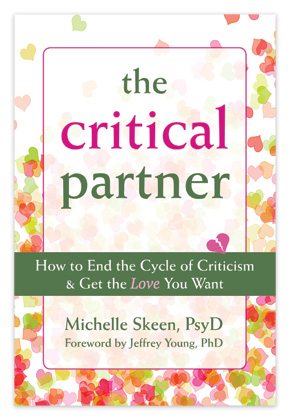 When you are in a relationship with a critical partner—someone who constantly blames you and holds you to unrealistic standards—you may feel picked apart, unworthy and unhappy. You may start to wonder if you'll ever be good enough for your partner. This guide can help you repair your relationship by getting to the root of why your partner criticizes you so that you both can build a more loving and supportive partnership.
Based in schema therapy, The Critical Partner can help you gradually change unhealthy relationship patterns and help your partner move beyond the need to criticize. Through a series of assessment quizzes and worksheets, you'll learn what's driving your partner's behavior and what makes you vulnerable to critical attacks.  You'll also discover alternative coping strategies for deflecting criticism and break the long-standing conflicts that keep you from moving forward as a couple. This book will help you get to the root of the problem so that you can repair your relationship and get the love you want.