My Radio Show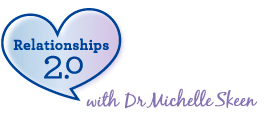 On my radio show, Relationships 2.0, I interview guests who present their unique perspectives and expertise on topics that cover all aspects of relationships. The authors and experts I chat with offer advice and tips for understanding ourselves and others better.
The show airs Thursdays on:
AM 1520 / 99.5 FM – Las Vegas, NV – 8:00 AM (PT)
101.5 FM – Long Beach, CA – 8:00 AM (PT)
96.3 FM – Boulder, CO – 9:00 AM (MT)
87.9 FM – Colorado Springs, CO – 9:00 AM (MT)
90.3 FM – Milwaukee, WI – 10:00 AM (CT)
AM 810 / 87.9 FM – Macon, GA – 11:00 AM (ET)
94.7 FM – Pittsburgh, PA – 11:00 AM (ET)
AM 1640 / 102.1 FM – Lancaster, PA – 11:00 AM (ET)
AM 1630 / 102.1 FM – Tampa, FL – 11:00 AM (ET)
90.3 FM – Jacksonville, FL – 11:00 AM (ET)
If you missed the radio station broadcasts, you can download my podcasts from iTunes, or go to the podcast archive page. Some past shows are also available on the video archive page.
Or subscribe to my podcast

If you would like to search for a past show using keywords, see my blog.
————————————————————————————————————
JULY – SEPTEMBER, 2012
This week on my radio show I will be discussing the book that I co-authored with Matthew McKay, PhD and Avigail Lev, PsyD, ACT for Interpersonal Problems:  Using Mindfulness, Acceptance, and Schema Awareness to Change Interpersonal Behaviors. I will be discussing the book with Maarten Aalberse PsyD, a clinical psychologist and ACT therapist in Lyon, France.
Acceptance and Commitment Therapy for Interpersonal Problems presents a complete treatment protocol for therapists working with clients who repeatedly fall into unhealthy patterns in their relationships with friends, family members, coworkers, and romantic partners. These clients may blame others, withdraw when feeling threatened, react defensively in conflicts, or have a deep-seated sense of distrust—all interpersonal problems that damage relationships and cause enormous suffering.
This book presents an acceptance and commitment therapy (ACT) approach—utilizing a schema-based formulation—to help these clients overcome maladaptive interpersonal behavior. First, clients learn how schema avoidance behavior damages their relationships. Second, clients face "creative hopelessness" and practice new mindfulness skills. Third, clients examine what they value in their relationships and what they hope to gain from them, and translate their values into clear intentions for acting differently in the future. And lastly, clients face the cognitive and emotional barriers standing between them and values-based behavior in their relationships. By learning to act on their values instead of falling into schema-influenced patterns, clients can eventually overcome the interpersonal problems that hold them back.
About my co-authors:
Matthew McKay, PhD, is a professor at the Wright Institute in Berkeley, CA. He has authored and coauthored numerous books, including The Relaxation and Stress Reduction Workbook, Self-Esteem, Thoughts and Feelings, When Anger Hurts, and ACT on Life Not on Anger. His books combined have sold more than 2.5 million copies. McKay received his PhD in clinical psychology from the California School of Professional Psychology. In private practice, he specializes in the cognitive behavioral treatment of anxiety and depression.
Avigail Lev, PsyD, is clinical supervisor at the Berkeley Cognitive and Behavioral Therapies Clinic. She specializes in couples therapy and treating mood disorders and interpersonal problems.
Foreword writer Steven C. Hayes, PhD, is University of Nevada Foundation Professor of Psychology at the University of Nevada, Reno. He is author of hundreds of scientific articles and many books, including Acceptance and Commitment Therapy, Relational Frame Theory, and Get Out of Your Mind and Into Your Life.
About Maarten Aalberse:
Clinical psychologist of Dutch origin living in France since 1995
Has co-lead professional trainings in « Unitive Psychotherapie » (Body-oriented approaches, Gestalt, Guided Imagery), in « A Healing Relationship with Shame in borderline and narcissistic processes » and « Graceful Means, felt gestures and bifocal mindfulness ».
Inspirations for his more recent work are derived from NeuroCognitive Behavior Therapy, Grovian Metaphor therapy and especially ACT.
Co author, with Jacques Fradin, of " "L'Intelligence du Stress", , 2008,
Co-editor & co-author, , of «Von der Energetischen Psychologie zur Bifokale Achtsamkeit» ("from energy psychology to bifocal mindfulness"), DGVT-Verlag, 2012
What he brings to ACT are client-generated metaphors, interventions based on S. Porges' "polyvagal theory" and mindful gestures, for enhancing balance and flexibility/ creativity/ purpose.
————————————————————————————————————
My guest is Steve Flowers, author of Living with Your Heart Wide Open: How Mindfulness and Compassion Can Free You from Unworthiness, Inadequacy, and Shame.
About the book:
Everyone is subject to feelings of unworthiness and inadequacy and sometimes these feelings can become your very sense of self and dominate everything you do.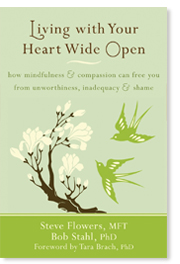 Living with Your Heart Wide Open offers a way to free yourself from this prison of shame though gentle and wise guidance in mindfulness and self-compassion practices as embodied within Mindfulness-Based Stress Reduction (MBSR) training.
The way we talk to ourselves is often unkind and filled with self-judgments. These overly harsh self-criticisms can make us feel unworthy and incomplete. What if what you really need is not higher standards for yourself, but greater self-compassion? In Living with Your Heart Wide Open, you'll discover how mindfulness and self-compassion can free you from the thoughts and beliefs that create feelings of inadequacy and learn to open your heart to the loving-kindness within you and in the world around you.
Based in Western psychotherapy and Buddhist psychological principles, this book guides you past painful and self-limiting beliefs about yourself and toward a new perspective of nonjudgmental awareness and acceptance of who you are, just as you are. You'll receive gentle guidance in mindfulness and compassion practices that will lead you away from unproductive, self-critical thoughts and help you live more freely and fearlessly, with your heart wide open.
About the author:
Steve Flowers, MA, MFT has been deeply invested in meditation practice since 1974 and is in private practice online and at his Chico office specializing in mindfulness-based psychotherapy. Steve is also the author of The Mindful Path Through Shyness: How mindfulness and acceptance can free you from shyness, social anxiety and avoidance.
In addition, Steve conducts the Mindfulness-Based Stress Reduction Clinic online and at Enloe Medical Center in Chico, California.
Steve conducts numerous mindfulness retreats each year for the general public and up to six fully accredited retreats a year for physicians, psychologists, nurses and licensed mental health professionals.
————————————————————————————————————
My guest is Susan Kuchinskas, author of The Chemistry of Connection: How the Oxytocin Response Can Help You Find Trust, Intimacy, and Love.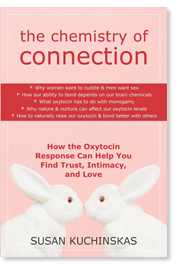 About the book:
When you make love, cuddle with a partner, or have coffee with close friends, a powerful brain chemical called oxytocin floods your body with feelings of contentment and trust. This natural love drug, produced by the hypothalamus, is responsible for human bonding in both platonic and intimate relationships, and is the key to many of the psychological differences between men and women. In The Chemistry of Connection, you'll learn easy ways to increase your natural supply of oxytocin to establish deeper connections with family, friends, and romantic partners.
You'll discover:
• The power of the cuddle hormone in relationships
• How sex and love are deeply entwined for both women and men
• The chemical differences between lust, romance, and love
• How to raise children who trust and love in a healthy way
About the author:
Susan Kuchinskas is a journalist with 15 years' experience and thousands of published articles on science, technology and culture. She writes regularly for WebMD, and her work has appeared in a wide variety of technology, business and consumer publications, from Art & Antiques to Time to Wired. While researching a magazine article, she became fascinated by the oxytocin response, because it explained so much about her life and relationships. As she wrote the book, she tracked research and news about oxytocin in her blog, Hug the Monkey, which is now recognized as one of the most authoritative sources for information on oxytocin on the web.
————————————————————————————————————
My guest for Tuesday September 4th is Lucie Hemmen. I am really excited about our chat because we will be discussing a subject that is very close to my heart–parenting a teen girl. It is a joy and a challenge to raise a teen girl. Lucie's book, Parenting a Teen Girl:  A Crash Course on Conflict, Communication, and Connection with Your Teen Daughter, is a great contribution to this important topic.
About the book:
It's not easy to be a teen girl, and it's definitely not easy parenting one. Parents everywhere struggle to respond appropriately to challenging behavior, hit-or-miss communication, and fluctuating moods commonly exhibited by teenage girls. More than previous generations, today's teen girls face a daunting range of stressors that put them at risk for a range of serious issues, including self-harming behaviors, substance abuse, eating disorders, anxiety, and depression. Is it any wonder that parents are overwhelmed?
Parenting a Teen Girl is a guide for busy parents who want bottom-line information and tips that make sense—and work. It also offers scripts to improve communication, and exercises to navigate stressful interactions with skill and compassion. Whether your teen girl is struggling with academic pressure, social difficulties, physical self-care, or technology overload, this book offers practical advice to help you connect with your teen girl. Parents and teens alike can enjoy a positive connection once common parent-teen pitfalls are replaced with solid understanding and strategies that work.
In this book, you will learn how to:
• Maximize your teen's healthy development
• Understand what underlies her moods and behavior
• Implement strategies for positive results
• Communicate effectively about difficult issues
• Enjoy and appreciate time with your teen daughter
About the author:
Lucie Hemmen, Ph.D. is a licensed clinical psychologist with a private practice in Santa Cruz, California.  She is also an author with her first book, Parenting a Teen Girl:  A Crash Course on  Conflict, Communication, and Connection with Your Teen Daughter which was released on August 1, 2012. For the past 20 years, Lucie has worked with individuals of all ages as well as couples and families.  In addition to working with issues such as depression, stress, anxiety, trauma, and grief, Lucie is committed to promoting healthy teen development by working with teens, their parents, and their communities.
————————————————————————————————————
My guest this week is Stan Tatkin. He was on my June 5th show discussing his book Wired for Love. I have asked him back to discuss sex in long-term relationships. Is it possible to maintain or re-ignite an exciting sexual relationship with your long-term partner?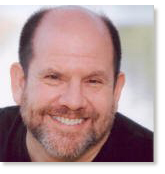 About Stan:
Stan Tatkin, PsyD, MFT, is a clinician, researcher, teacher, and developer of A Psychobiological Approach To Couples Therapy® (PACT) which integrates neuroscience, infant attachment, arousal regulation, and therapeutic enactment applied to adult primary attachment relationships. He maintains a practice in Calabasas, California, and runs a bi-weekly clinical study group for medical and mental health professionals and training programs in Los Angeles, San Francisco, Boulder, Seattle, Austin, and New Jersey.
Dr. Tatkin received his early training in developmental object relations (Masterson Institute), Gestalt, psychodrama, and family systems theory. His private practice specialized for some time in the treatment of adolescents and adults with personality disorders. Over the last decade, his interests branched out toward psycho-neurobiological theories of human relationship, integrating principles of early mother-infant attachment with adult romantic relationships. He speaks to professional audiences on subjects of couples therapy and preventative psychotherapy through early intervention with infants, children and their parents. He has published several articles on the psychobiology of couples' therapy and is currently training therapists on his unique approach to couples work using attachment theory, neuroscience, and principles of arousal and affect regulation.
Dr. Tatkin was a primary inpatient group therapist at the John Bradshaw Center where, among other things, he taught Mindfulness to patients and staff. He was trained in Vipassana meditation by Shinzen Young, Ph.D., and was an experienced facilitator in Vipassana. He was also trained by David Reynolds, Ph.D., in two Japanese forms of psychotherapy, Morita and Naikan.
Dr. Tatkin was clinical director of Charter Hospital's intensive outpatient drug and alcohol program, and is a former president of the California Association of Marriage and Family Therapists, Ventura County chapter.
In addition to his private practice, he teaches and supervises first through third-year family medicine residents at Kaiser Permanente, Woodland Hills, through which he is an assistant clinical professor at the UCLA David Geffen School of Medicine, Department of Family Medicine. He is also adjunct faculty for Antioch University, Santa Barbara Graduate Institute, and California Lutheran University.
————————————————————————————————————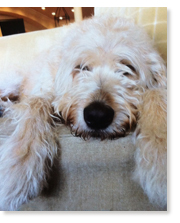 This week's show is in memory of our beloved dog Mac who died on May 3rd, a month after his diagnosis with inoperable pancreatic cancer. His life ended too soon and our family experienced tremendous sadness and loss. It is this sadness and loss that inspired me to seek out someone who could discuss the important role that pets play in our lives and why their loss is so painful.
This show is also dedicated to our dog Lucy (Mac's constant companion for over 8 years) and our cat Eddy. And the newest member of our family, Doug.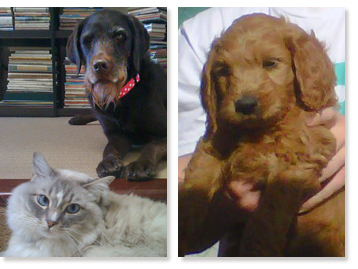 I am pleased to have author and Reverend Gary Kowalski on my show to discuss his book, Goodbye, Friend: Healing Wisdom for Anyone Who Has Ever Lost a Pet.
About the book:
The loss of an animal companion can be a painful, wrenching experience. In Goodbye, Friend, Gary Kowalski takes you on a journey of healing, offering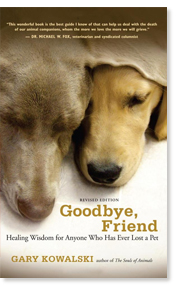 warmth and sound advice on how to cope with the death of your pet. Filled with heartwarming stories and practical guidance on such matters as taking care of yourself while mourning, creating rituals to honor your pet's memory, and talking to children about death, Goodbye, Friend is a beautiful and comforting book for anyone grieving the loss of a beloved animal.
About Gary:
Reverend Gary Kowalski is the author of bestselling books on animals, nature, history and spirituality. A graduate of Harvard College and the Harvard Divinity School, his work has been translated into German, French, Spanish, Japanese, Chinese and Czech and been voted a "Reader's Favorite" by the Quality Paperback Book Club. Whether investigating the emotional lives of animals, de-mystifying faith of America's Founding Fathers, unpacking the Bible or pondering the frontiers of modern physics, Gary's work centers on the connection of spirit and nature… acknowledging our kinship with each other and with a universe that is passionate, evolving and alive. Visit his website at www.kowalskibooks.com.
————————————————————————————————————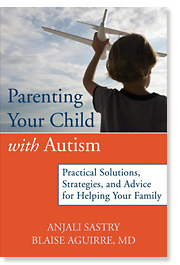 I am pleased to have as my guest this week Anjali Sastry, author of Parenting Your Child With Autism: Practical Solutions, Strategies, and Advice for Helping Your Family
About the book:
Amid a bewildering range of treatments that promise to alleviate or even cure autism, even the leading researchers can't predict what will work for your child. As a parent, you are in a unique position to become the practical expert on your child's needs and strengths. Parenting Your Child with Autism will equip you with family-tested and science-based approaches for meeting the challenges ahead.
You'll learn how to:
Get a diagnosis and navigate the health care and educational systems
Make sense of your child's treatment options
Tap into expert opinions and your own observations to find a treatment program that works
Become your child's best advocate and build a better family life
About Anjali:
M. Anjali Sastry has two sons on the autism spectrum. Drawing on her doctorate in management, she researches and teaches systems thinking and health care delivery at the Massachusetts Institute of Technology Sloan School of Management.
————————————————————————————————————
I am excited to have as my guest Ken Solin, author of Act Like a Man: Really There's Hope Men Can Change.
About Ken's Book: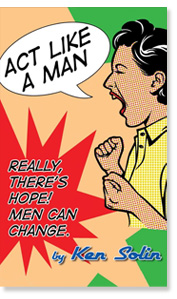 Men can—and do—change. And Act Like a Man invites you to eavesdrop as eight guys help each other identify, examine, and move beyond their dysfunctional behavior as partners, fathers, and friends.
There's nothing special about these guys—other than their commitment to becoming better men—and everything they accomplish, the man in your life can accomplish, too. All it takes is the honesty to admit that things aren't working and the desire to turn them around.
Well, not quite all. Women have a role to play, too. Men who have the courage to change all need the support of a woman committed to her own growth and that of her relationship. If you're with a man but want more emotional intimacy or are still looking for a man who can meet you on your emotional level, this book is for you.
About Ken:
For twenty years, author and lecturer Ken Solin has worked with men to move them beyond the issues that limit their lives. Divorces, sharing kids, single parenting, relationships, dysfunctional boyhoods, anger, depression, anxiety and other issues that affect men have been successfully dealt with.
Both men and women follow Ken since he deals with issues that affect both, particularly in relationships.
Before devoting himself to this work, Ken enjoyed a successful twenty-five year career as an entrepreneur, financing high-tech companies and wineries. He raised two sons as a single father and lives in California.
"What I've learned over two decades is that there are no shortcuts for healing the emotional wounds that hold men back in every aspect of their lives. The 'work' is men helping each other by listening to each other's stories, and responding from their own experiences in similar situations. Judgment and advice are meaningless. When a man shares his feelings with other men, he is expressing his absolute truth."
————————————————————————————————————
I am pleased that I will have as my guest Raychelle Cassada Lohmann, the author of The Anger Workbook for Teens, and a National Board Certified Counselor and a Licensed Professional Counselor in the states of NC and SC.
About Raychelle's book: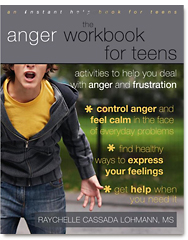 In The Anger Workbook for Teens, an anger management counselor offers forty-two activities and exercises adolescents can do to examine what makes them angry and learn to communicate their feelings more effectively. The activities also teach coping skills that help young readers handle anger-provoking situations in healthy ways.
Between family life and the pressures of school, there's no doubt that it's stressful being a teenager. But if they've noticed they are beginning to take out their frustrations on the people they love most—their parents, brothers or sisters, and friends-it may be time to make a change. The Anger Workbook for Teens shows them effective skills to help them deal with feelings of rage without losing it.
By completing just one ten-minute worksheet a day, they'll find out what's triggering their anger, look at the ways they react, and learn skills and techniques for getting their anger under control. They'll develop a personal anger profile and learn to notice the physical symptoms they feel when you become enraged, then find out how to calm those feelings and respond more sensitively to others. Once they fully understand their anger, they'll be better prepared to deal with their feelings in the moment and never lose their cool.
About Raychelle:
Raychelle Cassada Lohmann, MS, LPC has worked in middle school and high school settings as a professional school counselor. She has done extensive research in anger management and specializes in individual and group counseling for anger management. She is an active member of the American Counseling Association, American School Counseling Association, SC Counselors Association, and SC School Counselors Association.
————————————————————————————————————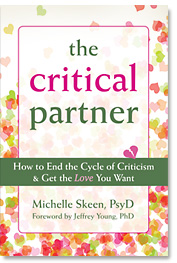 My guest for this week is Michelle Skeen…  yes, I will be host and guest! I will also have a close friend of mine on my show (I will reveal his name at the beginning of the show). Over the last month, I have been having frequent conversations with people about the subject of my book The Critical Partner. It has become clear to me that there are many people who feel trapped in the role of the "critical" partner and they truly want to end the toxic role that they play in their relationship. So, I will be discussing the primary schemas that trigger this behavior as well as the alternative coping strategies that can help them move on from their maladaptive behavior.
More about The Critical Partner
————————————————————————————————————
This promises to be a fun show.  My special guest for my radio show on July 17th is Charlee Ziegler.  She is a matchmaker for the new dating service TAWKIFY.
About Tawkify:
Tawkify is the newest way to meet someone . . . using the oldest method in the world. Tell us your interests and what you're looking for, and we (actual human beings) will personally match you. (We know! So old-school!) Then at 10pm (EST) / 7pm (PST) – we'll let you know – when your phone will ring. Answer it. It will be the person we hand-picked for you. It's thrilling! It's scary! It's provocative! It's audacious! It's brilliant! It's archaic! It's romantic!
About E. Jean and Kenneth, the founders:
E. Jean Carroll writes the Ask E. Jean column in Elle magazine. Incredibly it's the longest, currently-running advice column in American publishing. She has six million readers. E. Jean was a writer for Saturday Night Live, a contributing editor to Esquire, Outside, and Playboy. Her TV show on MSNBC was called—what else?—Ask E. Jean. She founded, with her sister, Cande Carroll, the breakthrough dating site, GreatBoyfriends.com (where women recommend their ex-boyfriends to each other) and which has been profiled in The New York Times, Newsweek, The Washington Post, the Miami Herald, the LA Times, Men's Health, Details, etc., and has been seen on The Today Show, The Early Show, Oprah, constantly on CNN, FOX, etc.
After two glasses of wine, E. Jean estimates that what with her column, her book, Mr. Right, Right Now, her coaching site, Dating: E. Jean, her YouTube Channel, and her television appearances, she has helped more people find enticing mates than any advice columnist in history.
Kenneth Shaw was most recently the principal imagineer at One Kings Lane. He began his career at Microsoft, and moved on to become the bashful firebrand who created My Purity Test, one of the most popular Facebook apps of all time. He also created the Elle magazine Facebook App. He graduated from Stanford in '07—he's a geek, a black belt in Hapkido, and possesses such a sunny disposition he makes a basket of puppies look depressed.
Computer Verses Human:
So the question is:  Who's better at making romantic matches? Kenneth and E. Jean? Or computers?
"Please," says E. Jean. "I'm an admirer of the big dating sites and they all use computers, but come on. Computers don't get jokes. A computer can't tell the difference between someone playful, someone weird, someone mean, and someone stupid. Kenneth and I are just waaaaaay better at picking up on wit, kindness, irony, warmth and wisecracks in people's answers. We can tell at a glance if someone is lovable. And we beat computers all to hell when judging sexual charisma displayed in photos. Kenneth Shaw and I make better matches than computers do."
About Charlee, matchmaker and go-between:
Charlee Ziegler is a life coach. Charlee started as a go-between at the age of six, when at sleepovers, whenever there was trouble, she created reconciliations by getting the kids to talk it out together in the bathroom while she mediated.
Split between a very conventional upbringing in suburban Arizona with her dad and a bohemian lifestyle in New York City with her actress mother, Charlee straddled two worlds and longed for unification. Often, when relatives had trouble in love, she intervened.
Between stints at Bennington College (E. Jean wrote her recommendation—Ed) Mills College, NYU, and St. John's College, Charlee traveled and had many adventures.
Once when she was trying to find the bathroom in a Parisian bar, a man stopped her and said in a thick accent, "You have what we call an overture of emotion," and then stoically walked away. Stunned by this announcement, and not really sure what it meant, she felt it had something to do with her destiny in life.
She's still not sure what it's all sussed up to be, but she's always believed that true love was possible between people and that the life of the heart used the love of another to express it's entire reason for being. The cosmic dimensions of relationship and the eternal struggle for love and, at times, crowning achievement of claiming it, for almost every individual in an entire planet of people enchants, baffles, and inspires her.
Married with a five-year-old daughter, Charlee investigates every aspect and dimension of love, marriage, and family and finds it to be a mysterious, beautiful, and epic saga.
For more information go to www.tawkify.com
————————————————————————————————————
I am happy to announce my guest will be Kaitlin Bell Barnett, journalist, blogger and author of Dosed: The Medication Generation Grows Up, which examines what it's like for young people to come of age taking psychiatric drugs that alter emotions, behavior and identity in a society that at once encourages and criticizes the use of psychopharmaceuticals.
Kaitlin writes about mental health at The Huffington Post and about young people's experiences of medication at My Meds, My Self, a blog at the psychology website Psych Central. I also review books for several psychology and mainstream outlets.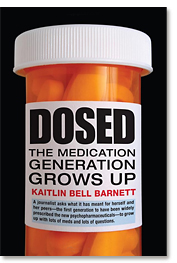 About Kaitlin's book:
Over the last two decades, we have seen a dramatic spike in young people taking psychiatric medication. As new drugs have come on the market and diagnoses have proliferated, prescriptions have increased many times over. The issue has sparked heated debates, with most arguments breaking down into predictable pro-med advocacy or anti-med jeremiads. Yet, we've heard little from the "medicated kids" themselves.
In Dosed, Kaitlin Bell Barnett, who began taking antidepressants as a teenager, takes a nuanced look at the issue as she weaves together stories from members of this "medication generation," exploring how drugs informed their experiences at home, in school, and with the mental health professions.
For many, taking meds has proved more complicated than merely popping a pill. The questions we all ask growing up—"Who am I?" and "What can I achieve?"—take on extra layers of complexity for kids who spend their formative years on medication. As Barnett shows, parents' fears that "labeling" kids will hurt their self-esteem means that many young children don't understand why they take pills at all, or what the drugs are supposed to accomplish. Teens must try to figure out whether intense emotions and risk-taking behaviors fall within the spectrum of normal adolescent angst, or whether they represent new symptoms or drug side effects. Young adults negotiate schoolwork, relationships, and the workplace, while struggling to find the right medication, dealing with breakdowns and relapses, and trying to decide whether they still need pharmaceutical treatment at all. And for some young people, what seemed like a quick fix turns into a saga of different diagnoses, symptoms, and a changing cocktail of medications.
The results of what one psychopharmacologist describes as a "giant, uncontrolled experiment" are just starting to trickle in. Barnett shows that a lack of ready answers and guidance has often proven extremely difficult for these young people as they transition from childhood to adolescence and now to adulthood. With its in-depth accounts of individual experiences combined with sociological and scientific context, Dosed provides a much-needed road map for patients, friends, parents, and those in the helping professions trying to navigate the complicated terrain of growing up on meds.
Kaitlin explains:
I got interested in the topic of young people spending their formative years on medication after reading a case study on the topic several years ago by The New York Times' mental health columnist. At that point, I was 25 years old and had been taking various medications, mostly antidepressants, for anxiety and depression since I was in high school; I had been contending with the underlying psychological conditions for several years before that. Until reading that column, I had thought I'd had a relatively uncomplicated experience with pharmaceutical treatment. For me, the medication had seemed to make my apathy, boredom, despair and panic vanish where introspection and therapy had failed to make any inroads.
But the more I thought about it, I realized that psychiatric meds do alter one's personality in fundamental ways, and that when taken in childhood and adolescence, as one is trying to locate a sense of self, they must inevitably affect one's developmental trajectory. I decided to embark on a project interviewing my peers about their own experiences taking medications for a variety of psychiatric conditions ranging from panic disorder to ADHD to bipolar disorder. The result was Dosed.
blogs.psychcentral.com/my-meds/
www.huffingtonpost.com/kaitlin-bell/
————————————————————————————————————
My guest will be Karen Kropf, who is the author of Raising Teens With Sexual Self-Control: A Parent's Survival Guide
Karen discusses her book:
Mom… Dad… Can We Talk?
There is an abundance of evidence which proves the strategies of well-meaning people trying PREVENT teens from being sexually active has produced exactly the opposite result. That's why this book was originally titled "Did You MEAN to Raise a Sexually Active Teen?"
But very few people seem to be aware of the proof, or that the methods educators and parents have been using since the 1960s DON'T WORK.
I've spoken to hundreds of parents who were completely unprepared for the anarchy of adolescence. They usually sought me out when things were on fire. Navigating an unexpected pregnancy, reeling from an abortion decision, dealing with sexual infections, or obsessive behavior.
In every single case, those parents had put off the training THEY needed to guide their child through the minefield of adolescence. "Hoping for the best" is not a strategy. These weren't bad parents. They just kept thinking they had more time.
If what you were looking for was a book that would guide you through "The Talk" – the one where you sweat bullets for months, finally arrange that special weekend, Mom takes the girls, Dad takes the boys, you lay it all out, pray they don't ask any tough questions and then hope to God you never have to discuss it again – this is NOT that book.
If you were looking for a book that explains how to convince a teen to use protection consistently and correctly, this is NOT that book. That book does not exist. Teens use condoms the way they clean their rooms. Always have and always will. You are fooling yourself if you think otherwise.
I wrote Raising Teens With Sexual Self-Control: A Parent's Survival Guide because I didn't want to watch another generation of teens fall for the same misconceptions and outright lies their parents had. It's written so that each chapter can stand alone – in case you're not the kind of person to read a book cover-to-cover, although I hope you will. I invite you to dive in somewhere and let me earn the right to coach you.
About Karen:
Karen Kropf is both the program developer and one of the founders of the organization Positively Waiting! She began exposing sex, love and relationship MYTHS in 1998, while volunteering at a local pregnancy center. In 2003, she and a team of enthusiastic adults began offering free public school presentations promoting delayed sexual activity.
————————————————————————————————————