My Radio Show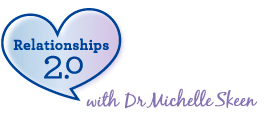 On my radio show, Relationships 2.0, I interview guests who present their unique perspectives and expertise on topics that cover all aspects of relationships. The authors and experts I chat with offer advice and tips for understanding ourselves and others better.
The show airs Thursdays on:
101.5 FM – Long Beach, CA – 8:00 AM (PT)
AM 1520 / 99.5 FM – Las Vegas, NV – 8:00 AM (PT)
96.3 FM – Boulder, CO – 9:00 AM (MT)
90.3 FM – Milwaukee, WI – 10:00 AM (CT)
AM 810 / 87.9 FM – Macon, GA – 11:00 AM (ET)
94.7 FM – Pittsburgh, PA – 11:00 AM (ET)
AM 1640 / 102.1 FM – Lancaster, PA – 11:00 AM (ET)
AM 1630 / 102.1 FM – Tampa, FL – 11:00 AM (ET)
If you missed the radio station broadcasts, you can download my podcasts from iTunes, or go to the podcast archive page. Some past shows are also available on the video archive page.
Or subscribe to my podcast

If you would like to search for a past show using keywords, see my blog.
---
JULY – SEPTEMBER, 2017
This week my guest is Mike Whitaker author of The Decision Makeover: An Intentional Approach to Living the Life You Want.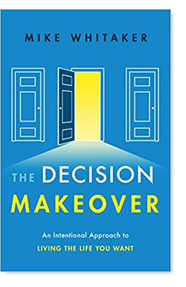 About the book:
Mike's book is available for pre-order on Amazon.com (publication date: September 2017)
The secret of happy and successful people? Their ability to make good decisions.
Changing careers, launching a business, starting a family, buying a home, moving to a new city? How do you know whether you're making the right decision?
In The Decision Makeover, Mike Whitaker offers a thoughtful and strategic approach for choosing wisely in all aspects of your life whether it's about money, career, education, health, friends, or family. With his background in both business and psychology, he lays out a decision-making process that gives you the power to achieve your dreams. He even explains what to do if you've made some poor decisions along the way, so that you can move ahead without regret.
Whitaker emphasizes the importance of understanding the difference between small and big decisions, and shows why defining your essential goals is the key to overcoming the roadblocks that can derail your progress.
He reveals:
why your next decision could change your life forever
why you make bad decisions
how to avoid self-destructive decision-making
how to proceed confidently toward future decisions
Filled with engaging anecdotes and interactive exercises, The Decision Makeovergives you the tools to finally achieve all that you want. For young people just beginning to make important life decisions, or those who have seen it all and are ready for a "reset," this timeless book is a must-have for anyone wanting to achieve the maximum success possible through purposeful decision making.
About the author:
A lifelong and successful entrepreneur, Mike Whitaker is an expert on personal and professional decision-making, turnarounds, and strategic planning. He is a no-nonsense business coach as well as speaker on topics that involve critical thinking about the future, offering unique perspectives and world-class solutions to help people achieve their goals.
Whitaker is the founder of Idea Gateway, a company that specializes in launching new businesses, providing expertise and capital for entrepreneurs. He is also a founder and board member for RevTech, a Dallas-based technology accelerator, and serves as Chairman of Lucas Color Card, a data product manufacturer he founded in 1995. These endeavors put Whitaker on the front lines of what is changing in business, technology, and for the American worker.
As part of his desire to offer helpful tools for motivated people, he has launched two new platforms: The Idea Filter®—an online idea assessment to help entrepreneurs separate the worthy concepts from the rest—and The Institute for Self Reliance—an online source for American workers who want to take control of their futures and their careers in an uncertain economy.
Whitaker received his bachelor's degree in Cognitive Psychology from the University of Kansas and earned his MBA from the Price College of Business at the University of Oklahoma. He is married and has three children who are also on the journey of discovering their passions, goals, and paths toward success. While his passions include family balance, entrepreneurship, and helping people achieve their dreams, Mike eagerly participates in competitive trapshooting as his sport of choice.
---
This week my guest is Stephanie Sarkis, PhD an author and psychologist specializing in sociopathy.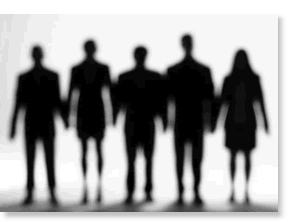 About the show:
Sociopaths are all around us – and they blend well with general society. In fact, even trained professionals have been manipulated by sociopaths – they are that good at hiding pathological behavior. Sociopaths thrive off of gaining control of others – and get pleasure from seeing others suffer. People can unknowingly connect with sociopaths through online dating. The online dating atmosphere is ripe for anonymity and creating a persona – something sociopaths use to get into your heart and home. In this segment, Dr. Stephanie Sarkis discusses how to indentify a sociopath – and what to do if you find yourself in a relationship with one.
About the author:
Stephanie Moulton Sarkis, Ph.D., NCC, DCMHS, LMHC, is a bestselling author and psychotherapist. She is an American Mental Health Counselors Association Diplomate and Clinical Mental Health Specialist in Child and Adolescent Counseling – one of 20 in the U.S.. She is also a National Certified Counselor and Licensed Mental Health Counselor. Her Psychology Today and Huffington Post articles on gaslighting behaviors have received international praise for drawing attention to hidden abuse in relationships. www.stephaniesarkis.com
---
This week my guest is Eric Maisel, PhD author of Overcoming Your Difficult Family: 8 Skills for Thriving in Any Family Situation.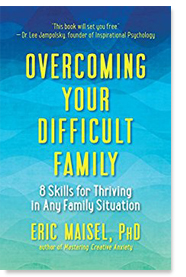 About the book:
Many of the difficult people you encounter in daily life can be avoided, but what if they're family members? What if the difficult person is a parent, a sibling, one of your children, or your mate? In Overcoming Your Difficult Family, life coach and retired family therapist Eric Maisel offers useful strategies for dealing with the people you're connected to for life, even when they are not cooperative. Dr. Maisel tackles the problematic aspects of families, describing eight vital skills to help you cope with challenging relationships. The book also serves as a unique "field guide" to common types of dysfunctional families — authoritarian families, anxious families, addicted families, and more — and how to thrive despite those dynamics. By following Dr. Maisel's battle-tested advice, you'll learn to maintain inner peace in the midst of family chaos and create a better life for your whole family.
About the author:
Eric Maisel, PhD, is a retired family therapist, a creativity and life coach, and the author of more than fifty books. He writes the "Rethinking Mental Health" blog for Psychology Today and the "Coaching the Artist Within" column for Professional Artist magazine and lectures throughout the world. He lives in the San Francisco Bay Area.
---
APRIL – JUNE, 2017
This week my guest is Linda Carroll author of Love Cycles: The Five Essential Stages of Lasting Love.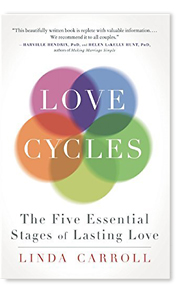 About the book:
In Love Cycles, veteran couples therapist Linda Carroll presents a groundbreaking model of the five natural stages of romantic relationships — the Merge, Doubt and Denial, Disillusionment, Decision, and Wholehearted Love — and a guide for navigating through them toward lasting love. Love Cycles helps readers understand where they are in the cycle of their relationship and provides a clear strategy for how to stay happy and committed, even in difficult times.
About the author:
Linda Carroll, MS, has worked as a couple's therapist for more than 30 years. In addition to being a licensed psychotherapist, she is certified in Transpersonal Psychology and Imago Therapy, the highly successful form of couple's therapy developed by Dr. Harville Hendrix and Dr. Helen LaKelly Hunt. She is also a master teacher in the Pairs Psychoeducation Process, a nationally-recognized relationship education program for couples. Linda has studied many modalities of psychological and spiritual work, including Voice Dialogue with Drs. Hal and Sidra Stone, Holotropic Breathwork with Dr. Stan Grof, the Four-Fold With Angeles Arrien, the Diamond Heart Work of A.H. Almaas, and training with The Couples Institute of Drs. Ellyn Bader and Peter Pearson. She is also certified in the Hot Monogamy program, which helps couples create or re-create a passionate connection between them.
---
This week my guest is Marc Allen author of The Magical Path: Creating the Life of Your Dreams and a World That Works for All.
About the book:
At the start of his career, Marc Allen never took a business course; he simply made what he calls "a sloppy, disorganized, lazy, and intuitive search through the books of Western magic." There he found the tools that took him from being a poverty case to a multimillionaire and helped him create one of the most successful independent publishers in the country. In The Magical Path, he presents these tools — effective, easy-to-apply practices, including affirmation, visualization, and guided meditation — that can change the course of readers' lives in miraculous ways, as they did his. Because these tools are so simple and powerful, Allen calls them magic. But far from esoteric, they are tools anyone can use to achieve their dreams and goals.
About the author:
---
This week my guest is Suzanne Scurlock-Durana author of Reclaiming Your Body: Healing From Trauma and Awakening to Your Body's Wisdom.
A guided tour through the body's innate healing powers
Many of us have learned to ignore, deny, or even mistrust the wise messages our bodies give us. The result is that when trauma strikes, a time when we need every aspect of our beings to master the challenge, we may find ourselves disconnected from our greatest strengths. Suzanne Scurlock-Durana, who has spent thirty years studying the gifts of the body and teaching thousands how to reclaim them, began to recognize this strength, which she likens to a GPS, when she herself experienced a life-threatening trauma. Here she walks readers through different areas of the body, revealing the wisdom they hold and how to reconnect with that wisdom. As she shows in this warm, compassionate book, the body's abilities are always available; we must simply reconnect with them.
Suzanne Scurlock-Durana's Healing from the Core curriculum, combined with CranioSacral therapy and other bodywork modalities, creates a complete, body-centered guide to awareness, healing, and joy. She is also the author of Full Body Presence. She teaches around the world and lives in Reston, Virginia.
---
This week my guest is Alexandra Solomon, PhD author of Loving Bravely: 20 Lessons of Self-Discovery to Help You Get the Love You Want.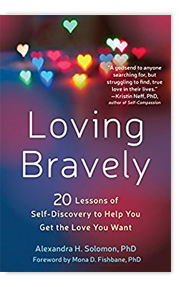 About the book:
Real love starts with you. In order to attract a life partner and build a healthy intimate relationship, you must first become a good partner to yourself. This book offers twenty invaluable lessons that will help you explore and commit to your own emotional and psychological well-being so you can be ready, resilient, and confident in love.
Many of us enter into romantic relationships full of expectation and hope, only to be sorely disappointed by the realization that the partner we've selected is a flawed human being with their own neuroses, history, and desires. Most relationships end because one or both people haven't done the internal work necessary to develop self-awareness and take responsibility for their own experiences. We've all heard "You can't love anyone unless you love yourself," but amid life's distractions and the myth of perfect, romantic love, how exactly do you do that?
In Loving Bravely, psychologist, professor and relationship expert Alexandra H. Solomon introduces the idea of relational self-awareness, encouraging you to explore your personal history to gain an understanding of your own relational patterns, as well as your strengths and weaknesses in relationships. By doing so, you'll learn what relationships actually require, beyond the fairytale notions of romance. And by maintaining a steady but gentle focus on yourself, you'll build the best possible foundation for making a loving connection.
By understanding your past relationship experiences, cultivating a strong sense of self-awareness, and determining what it is you really want in a romantic partner—you'll be ready to find the healthy, lasting love your heart desires.
About the author:
Alexandra H. Solomon, PhD, is staff clinical psychologist, member of the teaching faculty in the marriage and family therapy graduate program, and clinical assistant professor of psychology at The Family Institute at Northwestern University. In addition to her clinical work with couples and individuals, Solomon teaches graduate and undergraduate students. One of her courses is Northwestern University's internationally renowned "Building Loving and Lasting Relationships: Marriage 101," which combines traditional and experiential learning to educate students about key relational issues like intimacy, sex, conflict, acceptance, and forgiveness. Solomon's work has been widely cited, and her articles on love and marriage have appeared in The Handbook of Clinical Psychology, The Handbook of Couple Therapy, Family Process, Psychotherapy Networker, and other top publications in psychology. Her work also appears in O Magazine and The Huffington Post, and she is a frequent interviewee and contributor for the Oprah Winfrey Network, Yahoo! Health, The Atlantic, CBS Early Show, NPR, Psychology Today, and WGN Morning News. She is a sought-after speaker for corporate, collegiate, and professional audiences on topics related to modern love. Solomon lives in Highland Park, IL, with her husband, Todd, and their two children, Brian and Courtney.
---
This week my guest is Mark Coleman author of Awake in the Wild: Mindfulness in Nature as a Path of Self-Discovery.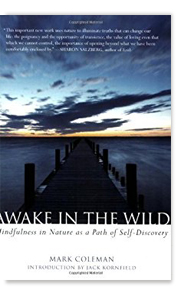 About the book:
"Nature deficit disorder" has become an increasingly challenging problem in our hyper modern world. In Awake in the Wild, Mark Coleman shows seekers how to remedy this widespread malady by reconnecting with nature through Buddhism. Each short (two to three pages) chapter includes a concrete nature meditation relating to such topics as Attuning to the Natural World, Reflecting the Rhythms of Nature, Walking with Compassion, Releasing the Inner Noise, Freeing the Animal Within, Coming into the Peace of Wild Things, Weathering the Storms of Life, and more. Incorporating anecdotes from the author's many nature retreats, Buddhist wisdom and teachings, important nature writings by others, and nature itself, the book invites readers to participate in, not just observe, nature; develop a loving connection with the earth as a form of environmental activism; decrease urban alienation through experiencing nature; embody nature's peaceful presence; and connect with ancient spiritual wisdom through nature meditations.
About the author:
Mark Coleman has been meditating for more than twenty-five years. He teaches at Spirit Rock Meditation Center and conducts nature meditation retreats all over the world. He lives in Mill Valley, California. www.awakeinthewild.com
---
This week my guest is Steve Taylor PhD author of The Leap: They Psychology of Spiritual Awakening.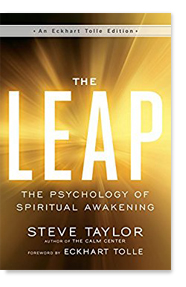 About the book:
What does it mean to be enlightened or spiritually awakened? In The Leap, Steve Taylor shows that this state is much more common than is generally believed. He shows that ordinary people — from all walks of life — can and do regularly "wake up" to a more intense reality, even if they know nothing about spiritual practices and paths. Wakefulness is a more expansive and harmonious state of being that can be cultivated or that can arise accidentally. It may also be a process we are undergoing collectively. Drawing on his years of research as a psychologist and on his own experiences, Taylor provides what is perhaps the clearest psychological study of the state of wakefulness ever published. Above all, he reminds us that it is our most natural state — accessible to us all, anytime, anyplace.
About the author:
Steve Taylor, PhD, is the author of several books on spirituality and psychology, including The Fall and Waking from Sleep. He has also published two books of poetic spiritual reflections, including The Calm Center. He is a senior lecturer in psychology at Leeds Beckett University in the United Kingdom. Since 2011, he has appeared annually in Mind, Body, Spirit magazine's list of the world's "100 most spiritually influential living people."
---
This week on Relationships 2.0 my guest is Ben Sedley author of Stuff That Sucks: A Teen's Guide to Accepting What You Can't Change and Committing to What You Can.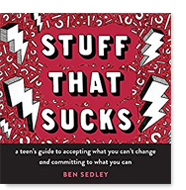 About the book:
Sometimes everything sucks. This unique, illustrated guide will help you move past negative thoughts and feelings and discover what truly matters to you.
If you struggle with negative thoughts and emotions, you should know that your pain is real. No one should try to diminish it. Sometimes stuff really does suck and we have to acknowledge it. Worry, sadness, loneliness, anger, and shame are big and important, but they can also get in the way of what really matters. What if, instead of fighting your pain, you realized what really matters to you—and put those things first in life? If you did that, maybe your pain wouldn't feel so big anymore. Isn't it worth a try?
Stuff That Sucks offers a compassionate and validating guide to accepting emotions, rather than struggling against them. With this book as your guide, you'll learn to prioritize your thoughts, feelings, and values. You'll figure out what you care about the most, and then start caring some more! The skills you'll learn are based on acceptance and commitment therapy (ACT). Yes, there are a few written exercises, but this isn't a workbook. It's a journey into the stuff that sucks, what makes that sucky stuff suck even more, and how just a few moments each day with the stuff that matters will ultimately transform the stuff that sucks into stuff that is just stuff. Make sense?
Maybe you want to be more creative? Or maybe you simply want to do better in school or be a better friend? This book will show you how to focus on what you really care about, so that all that other sucky stuff doesn't seem so, well, sucky anymore.
About the author:
Ben Sedley is a clinical psychologist and acceptance and commitment therapy (ACT) practitioner with over fifteen years of experience working with kids, adolescents, and families facing mental health difficulties.
He is also the father of three wonderful noisy kids and loves The Ramones and The Clash.
---
This week my guest is Linda Lehrhaupt, PhD author of Mindfulness-Based Stress Reduction: The MBSR Program for Enhancing Health and Vitality.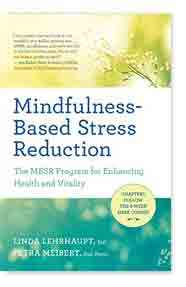 About the book:
Practicing mindfulness helps us meet life's challenges with gentleness and clarity. By fully engaging in the present moment as best we can, we nurture our capacity to approach difficulties with less judgment and water the seeds of wisdom and openheartedness in ourselves. This book offers a concise and thorough immersion in the eight-week Mindfulness-Based Stress Reduction (MBSR) course developed by Dr. Jon Kabat­-Zinn. It features straightforward instruction in the main exercises of MBSR – sitting meditation, walking meditation, eating meditation, yoga, body scan, and informal, everyday practices. MBSR has been shown to help alleviate symptoms associated with chronic illness, anxiety, pain, burnout, cancer, and other stress-related conditions.
The authors, two leading MBSR teacher trainers, provide step-by-step instructions as well as illustrative real-life examples. Readers embarking on a course in MBSR will find clear guidance, trainers will gain a valuable tool for their teaching, and anyone experiencing or receiving treatment for challenges of mind, body, or spirit will find practical, inspirational help.
About the author:
Linda Lehrhaupt, PhD, is the founder and executive director of the Institute for Mindfulness-Based Approaches and one of Europe's most senior MBSR teachers.
---
This week my guest is Sally M. Winston, PsyD co-author of Overcoming Unwanted Intrusive Thoughts: A CBT-based Guide to Getting Over Frightening, Obsessive, or Disturbing Thoughts.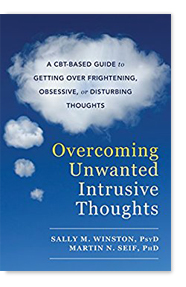 About the book:
You are not your thoughts! In this powerful book, two anxiety experts offer proven-effective cognitive behavioral therapy (CBT) skills to help you get unstuck from disturbing thoughts, overcome the shame these thoughts can bring, and reduce your anxiety.
If you suffer from unwanted, intrusive, frightening, or even disturbing thoughts, you might worry about what these thoughts mean about you. Thoughts can seem like messages—are they trying to tell you something? But the truth is that they are just thoughts, and don't necessarily mean anything. Sane and good people have them. If you are someone who is plagued by thoughts you don't want—thoughts that scare you, or thoughts you can't tell anyone about—this book may change your life.
In this compassionate guide, you'll discover the different kinds of disturbing thoughts, myths that surround your thoughts, and how your brain has a tendency to get "stuck" in a cycle of unwanted rumination. You'll also learn why common techniques to get rid of these thoughts can backfire. And finally, you'll learn powerful cognitive behavioral skills to help you cope with and move beyond your thoughts, so you can focus on living the life you want. Your thoughts will still occur, but you will be better able to cope with them—without dread, guilt, or shame.
If you have unwanted thoughts, you should remember that you aren't alone. In fact, there are millions of people just like you—good people who have awful thoughts, gentle people with violent thoughts, and sane people with "crazy" thoughts. This book will show you how to move past your thoughts so you can reclaim your life!
About the author:
Sally M. Winston, PsyD, founded and codirects the Anxiety and Stress Disorders Institute of Maryland in Towson, MD. She served as the first chair of the Clinical Advisory Board of the Anxiety and Depression Association of America (ADAA), and received their prestigious Jerilyn Ross Clinician Advocate Award. She is a master clinician who has given sought-after workshops for therapists for decades. She is coauthor of What Every Therapist Needs to Know About Anxiety Disorders.
---
This week my guest is Maria Felipe author of Live Your Happy: Get Out of Your Own Way and Find the Love Within.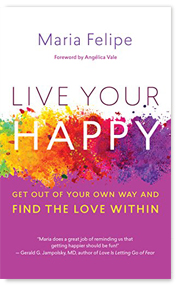 About the book:
Banish Fear, Encounter Love!

Inspired, lively, and fun, Maria Felipe's real-world approach to living based on A Course in Miracles will guide you toward a life released from fear and doubt and filled with joy and power. In nine crystal-clear chapters, Maria shows you how to banish the "cuckoo voice of the ego" and connect with your internal teacher, accessing unlimited love and strength. Her stories, shared from her own life and from her students' experiences, demonstrate that with a willing attitude and an open heart, true happiness isn't just possible — it's inevitable!
About the author:
Rev. Maria Felipe, a Cuban American born in Miami, found success as a model and actress before following a spiritual path that led her to study A Course in Miracles. She became an ordained minister at Pathways of Light and now leads monthly services in both Spanish and English at Unity Church in Burbank, California.
---
This week my guest is Laura Doyle author of The Empowered Wife: Six Surprising Secrets for Attracting Your Husband's Time, Attention, and Affection.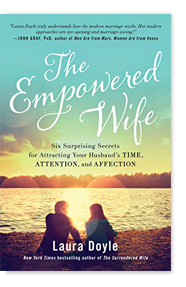 About the book:
Can a wife single-handedly bring a boring or broken marriage back to life? This improved and expanded edition of Laura Doyle's acclaimed First, Kill All the Marriage Counselors features real-life success stories from empowered wives who have done just that–and provides a step-by-step guide to revitalizing your own marriage.
Laura Doyle's marriage was in trouble, and couples counseling wasn't helping. On the brink of divorce, she decided to talk to women who'd been happily married for over a decade, and their advice stunned her. From it, she distilled Six Intimacy Skills–woman-centric practices that ended her overwhelming resentment, restoring the playfulness and passion in her marriage.
Now an internationally-recognized relationship expert, Doyle has shared her secrets with women around the globe, saving thousands of marriages with her fresh, revolutionary approach.
Practical and counter-intuitive, the Six Intimacy Skills are about focusing on your own desires and transforming your own life–not bending over backwards to transform your husband.
Incorporating these skills will empower you to:
Attract his attention like a magnet when you relax more and do less
Receive affection not because you told him to make more of an effort, but because he naturally seeks you out
Feel more like yourself–and like yourself moreIf you've been trying to "fix" your relationship and it's not working, maybe the problem was never you, or your husband, or even the two of you as a couple. Maybe the problem is that nobody ever taught you the skills you need to foster respect, tenderness, and consideration. With humor and heart, The Empowered Wife shows you how to improve your relationship in ways you hadn't thought possible. You'll join a worldwide community of over 150,000 empowered wives who finally have the marriages they dreamed of when they said "I do."
About the author:
Laura Doyle is a New York Times Best Selling Author of The Surrendered Wife, The Surrendered Single and First, Kill All the Marriage Counselors. Over 150,000 women credit her with helping them revitalize the intimacy in their relationships using the system in her Surrendered Wife, Empowered Woman Program for wives and girlfriends. To watch her free training program on how to become desired, cherished and adored for life, visit http://lauradoyle.org/
Laura has appeared on CBS Evening News, Dateline NBC, The Today Show and The View. She has been written about in The Wall Street Journal, the New York Times, the Los Angeles Times, The Washington Post, The London Telegraph and The New Yorker. She is a regular contributor to The Huffington Post and the founder of Laura Doyle Connect, a multi-national company that provides relationship coaching for single women, girlfriends and wives all over the world. Her books have been translated into 16 languages and published in 27 countries.
---
JANUARY – MARCH, 2017
This week my guest is Lisa Smartt author of Words at the Threshold: What We Say When We're Nearing Death.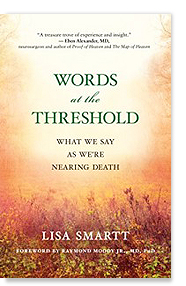 About the book:
What Our Last Words Reveal About Life, Death, and the Afterlife
A person's end-of-life words often take on an eerie significance, giving tantalizing clues about the ultimate fate of the human soul. Until now, however, no author has systematically studied end-of-life communication by using examples from ordinary people. When her father became terminally ill with cancer, author Lisa Smartt began transcribing his conversations and noticed that his personality underwent inexplicable changes. Smartt's father, once a skeptical man with a secular worldview, developed a deeply spiritual outlook in his final days ? a change reflected in his language. Baffled and intrigued, Smartt began to investigate what other people have said while nearing death, collecting more than one hundred case studies through interviews and transcripts. In this groundbreaking and insightful book, Smartt shows how the language of the dying can point the way to a transcendent world beyond our own.
About the author:
Lisa Smartt, MA, is a linguist, educator, and poet. She is the author of Words at the Threshold: What We Say When We're Nearing Death (New World Library 2017). The book is based on data collected through The Final Words Project, wwwfinalwordsproject.org, an ongoing study devoted to gathering and interpreting the mysterious language at end of life. She has worked closely with Raymond Moody, guided by his research into language, particularly unintelligible speech. They have co-facilitated presentations about language and consciousness at universities, hospices and conferences.
---
This week my guest is Marc Allen. Marc is joining me to discuss the 40th anniversary of Shakti Gawain's book Creative Visualization: Use the Power of Your Imagination to Create What You Want in Your Life.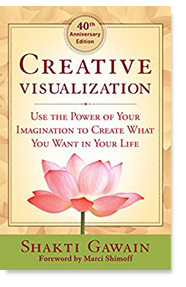 About the book:
As introduced by Shakti Gawain to more than seven million readers worldwide, creative visualization is the art of using mental imagery and affirmation to produce positive changes in your life. Gawain's clear writing style and vivid examples make Creative Visualization easy to read and apply to your personal needs and wants. This groundbreaking work has found enthusiastic followers in every country and language in which it has been published, and Gawain's simple yet powerful techniques are now used successfully in many diverse fields, including health, education, business, sports, and the creative arts. Whether you read it for general inspiration and empowerment or to achieve specific goals (financial, creative, medical, career, relationship), Creative Visualization remains a profoundly powerful resource from a uniquely warm and wise teacher.
About my guest:
Marc Allen is an internationally renowned author and speaker, the president and publisher of New World Library, and an accomplished musician and composer.
His most recent book, The Magical Path — Creating the Life of Your Dreams and a World that Works for All — is filled with short, simple practices that have proven to help thousands of people make wonderful changes in their lives. Bestselling author Dr. Bernie Siegel put it this way: "Marc Allen is sharing the wisdom of the ages in a way that can guide and coach us to choose and create the life we desire."
His previous book, The Greatest Secret of All, guides the reader in unraveling the secrets of happiness, inner peace, ease, and fulfillment. Bestselling author Gay Hendricks says of The Greatest Secret of All: "It is a wonderful contribution to humanity. It gives us the key to a life well lived."
Marc's most popular book is The Millionaire Course: A Visionary Plan for Creating the Life of Your Dreams. It is an entire course, filled with keys to success. Over the years, he has written and published several other books, including Visionary Business: An Entrepreneur's Guide to Success, which brought his principles to those in the business world, and A Visionary Life, which remains one of the best books ever written on personal fulfillment.
He has also published The Type-Z Guide to Success — A Lazy Person's Manifesto for Wealth and Fufillment — which is loved by lazy people all over the world, and The Ten Percent Solution: Simple Steps to Improve Our Lives and the World. He produced a popular audio CD (over 100,000 copies sold), Stress Reduction and Creative Meditations. In recent years he has expanded his reach to deliver his message through a variety of digital formats.
He has produced The Success With Ease Audio Course, a 12-audio download available through his website, MarcAllen.com. The 11th audio of the series is available as a separate download; it's titled The Spiritual Path to Success.
Marc co-founded New World Library with Shakti Gawain in 1977 and has guided the company from a small start-up with no capital to its current position as one of the leading independent publishers in the country. Along the way, he has published many books that have changed lives, including Eckhart Tolle's The Power of Now, Deepak Chopra's The Seven Spiritual Laws of Success, and Shakti Gawain's Creative Visualization.
---
This week my guest is Stephanie Sarkis, PhD. She explains Gaslighting, a manipulation technique used by abusers, sociopaths and narcissists.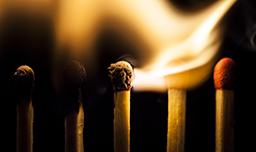 About the show:
Gaslighting: Know it, Identify It and Protect Yourself
Gaslighting is a tactic in which a person or entity, in order to gain more power, makes a victim question their reality. It works much better than you may think. Anyone is susceptible to gaslighting, and it is a common technique of abusers, dictators, narcissists, and cult leaders. It is done slowly, so the victim doesn't realize how much they've been brainwashed. For example, in the movie Gaslight (1944), a man manipulates his wife to the point where she thinks she is losing her mind.
People who gaslight typically use the following techniques:
1. They tell blatant lies.
You know it's an outright lie. Yet they are telling you this lie with a straight face. Why are they so blatant? Because they're setting up a precedent. Once they tell you a huge lie, you're not sure if anything they say is true. Keeping you unsteady and off-kilter is the goal.
2. They deny they ever said something, even though you have proof.
You know they said they would do something; you know you heard it. But they out and out deny it. It makes you start questioning your reality—maybe they never said that thing. And the more they do this, the more you question your reality and start accepting theirs.
3. They use what is near and dear to you as ammunition.
They know how important your kids are to you, and they know how important your identity is to you. So those may be one of the first things they attack. If you have kids, they tell you that you should not have had those children. They will tell you'd be a worthy person if only you didn't have a long list of negative traits. They attack the foundation of your being.
4. They wear you down over time.
This is one of the insidious things about gaslighting—it is done gradually, over time. A lie here, a lie there, a snide comment every so often…and then it starts ramping up. Even the brightest, most self-aware people can be sucked into gaslighting—it is that effective. It's the "frog in the frying pan" analogy: The heat is turned up slowly, so the frog never realizes what's happening to it.
5. Their actions do not match their words.
When dealing with a person or entity that gaslights, look at what they are doing rather than what they are saying. What they are saying means nothing; it is just talk. What they are doing is the issue.
6. They throw in positive reinforcement to confuse you.
This person or entity that is cutting you down, telling you that you don't have value, is now praising you for something you did. This adds an additional sense of uneasiness. You think, "Well maybe they aren't so bad." Yes, they are. This is a calculated attempt to keep you off-kilter—and again, to question your reality. Also look at what you were praised for; it is probably something that served the gaslighter.
7. They know confusion weakens people.
Gaslighters know that people like having a sense of stability and normalcy. Their goal is to uproot this and make you constantly question everything. And humans' natural tendency is to look to the person or entity that will help you feel more stable—and that happens to be the gaslighter.
8. They project.
They are a drug user or a cheater, yet they are constantly accusing you of that. This is done so often that you start trying to defend yourself, and are distracted from the gaslighter's own behavior.
9. They try to align people against you.
Gaslighters are masters at manipulating and finding the people they know will stand by them no matter what—and they use these people against you. They will make comments such as, "This person knows that you're not right," or "This person knows you're useless too." Keep in mind it does not mean that these people actually said these things. A gaslighter is a constant liar. When the gaslighter uses this tactic it makes you feel like you don't know who to trust or turn to—and that leads you right back to the gaslighter. And that's exactly what they want: Isolation gives them more control.
10. They tell you or others that you are crazy.
This is one of the most effective tools of the gaslighter, because it's dismissive. The gaslighter knows if they question your sanity, people will not believe you when you tell them the gaslighter is abusive or out-of-control. It's a master technique.
11. They tell you everyone else is a liar.
By telling you that everyone else (your family, the media) is a liar, it again makes you question your reality. You've never known someone with the audacity to do this, so they must be telling the truth, right? No. It's a manipulation technique. It makes people turn to the gaslighter for the "correct" information—which isn't correct information at all.
The more you are aware of these techniques, the quicker you can identify them and avoid falling into the gaslighter's trap.
Original Post on Psychology Today: Gaslighting: Know It and Identify It to Protect Yourself
About the author:
Dr. Stephanie Sarkis is a National Certified Counselor (NCC), Licensed Mental Health Counselor (LMHC), and AMHCA Diplomate and Clinical Specialist in Child and Adolescent Counseling based in Tampa Bay, Florida, where she specializes in the treatment of ADD/ADHD. Dr. Sarkis conducts evaluations, testing, diagnosis, and counseling services. She also is a public speaker, consultant, coach, and is a facilitator in collaborative law.
---
This week my guest is Evan M. Forman PhD author of Effective Weight Loss: An Acceptance-Based Behavioral Approach.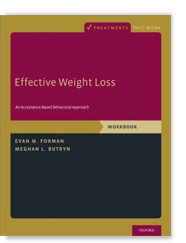 About the book:
The obesity epidemic is one of the most serious public health threats confronting the nation and the world. The majority of overweight individuals want to lose weight, but the overall success of self-administered diets and commercial weight loss programs is very poor. Scientific findings suggest that the problem boils down to adherence. The dietary and physical activity recommendations that weight loss programs promote are effective; however, people have difficulty initiating and maintaining changes.
Effective Weight Loss presents 25 detailed sessions of an empirically supported, cognitive-behavioral treatment package called Acceptance-Based Behavioral Treatment (ABT). The foundation of this approach is comprised of the nutritional, physical activity, and behavioral components of the most successful, gold-standard behavioral weight loss programs. These components are synthesized with acceptance, willingness, behavioral commitment, motivation, and relapse prevention strategies drawn from a range of therapies. ABT is based on the idea that specialized self-control skills are necessary for weight control, given our innate desire to consume delicious foods and to conserve energy by avoiding physical activity. These self-control skills revolve around a willingness to choose behaviors that may be perceived as uncomfortable, for the sake of a more valuable objective. The Clinician Guide is geared towards helping administer treatment, and the companion Workbook provides summaries of session content, exercises, worksheets, handouts, and assignments for patients and clients receiving the treatment. The books will appeal to psychologists, primary care physicians, nutritionists, dieticians, and other clinicians who counsel the overweight.
About the author:
Evan Forman, PhD, is a Professor of Psychology at Drexel University and Co-Director of the Laboratory for Innovations in Health-Related Behavior Change. He also serves as Director of Graduate Studies and Chair of the Society for Clinical Psychology's Committee on Science and Practice and is Past-President of the Philadelphia Behavior Therapy Association. He has been the lead investigator of several National Institute of Health-sponsored trials, including two comparing the effectiveness and processes of traditional cognitive therapy to newer acceptance-based behavior therapies. He also has been funded to examine the feasibility and effectiveness of smartphone and computerized neurocognitive training interventions for weight control.
---
This week on Relationships 2.0 my guest is Evan M. Forman PhD co-editor/author of Mindfulness and Acceptance for Treating Eating Disorders & Weight Concerns: Evidence-based Interventions.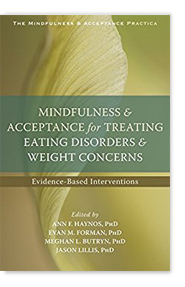 About the book:
Disordered eating, negative body image, and problems with weight have become an epidemic—and research shows that traditional treatments are not always effective. This professional resource offers proven-effective interventions using mindfulness and acceptance for treating clients with disordered eating, body image, or weight issues—and for whom other treatments have failed.
Millions of people in the United States suffer from eating disorders, and dissatisfaction with weight and body type—even in individuals whose weight is considered normal—is similarly widespread. In addition, more than half of Americans could benefit from healthy weight loss. Unfortunately, not all people with eating disorders or weight concerns respond to traditional therapeutic interventions; many continue to suffer significant symptoms even after treatment. What these clients need is an integrated therapeutic approach that will prove effective in the long run—like the scientifically backed methods in this much-needed clinical guide.
Edited by Ann F. Haynos, Jason Lillis, Evan M. Forman, and Meghan L. Butryn; and with contributors including Kay Segal, Debra Safer, and Hugo Alberts; Mindfulness and Acceptance for Treating Eating Disorders and Weight Concerns is the first professional resource to incorporate a variety of proven-effective acceptance- and mindfulness-based approaches—such as acceptance and commitment therapy (ACT), dialectical behavior therapy (DBT), and mindfulness-based cognitive therapy (MBCT)—into the treatment of persistent disordered eating, body image issues, and weight problems.
With these evidence-based interventions, you'll be ready to help your clients move beyond their problems with disordered eating, body dissatisfaction, and weight management once and for all.
About the editor/author:
Evan M. Forman, PhD, is professor and director of graduate studies for the department of psychology at Drexel University in Philadelphia, PA, as well co-director of the Laboratory for Innovations in Health-Related Behavior Change. His research, which is funded by the National Institutes of Health and the Obesity Society, focuses on using technology and new behavioral frameworks to enhance interventions for health behavior change, especially obesity.
---
This week my guests are W. Brad Johnson, PhD & David Smith, PhD authors of Athena Rising: How and Why Men Should Mentor Women.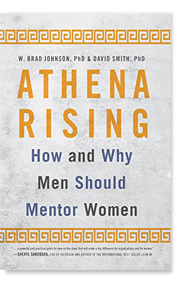 About the book:
Increasingly, new employees and junior members of any profession are encouraged-sometimes stridently-to "find a mentor!" Four decades of research reveals that the effects of mentorship can be profound and enduring; strong mentoring relationships have the capacity to transform individuals and entire organizations. Organizations that retain and promote top talent-both female and male-are more likely to thrive. But the mentoring landscape is unequal. Evidence consistently shows that women face more barriers in securing mentorships than men, and when they do find a mentor, they may reap a narrower range of both career and psychological benefits. Athena Rising is a book for men about how to mentor women deliberately and effectively. It is a straightforward, no-nonsense manual for helping men of all institutions, organizations, and businesses to become excellent mentors to women. Co-authors W. Brad Johnson, PhD and David Smith, PhD draw from extensive research and years of experience as experts in mentoring relationships and gender workplace issues. When a man mentors a woman, they explain, the relationship is often complicated by conventional gender roles and at times hostile external perceptions. Traditional notions of mentoring are often modeled on male-to-male relationships-the sort that begin on the golf course, involve a nearly exclusive focus on career achievement, and include more than a few slaps on the back over drinks after work. But women often report a desire for mentoring that integrates career and interpersonal needs. Women want a mentor who not only "gets" this, but truly honors it. Men need to fully appreciate just how crucial their support of promising junior women can be in helping them to persist, promote, and thrive in their vocations and organizations. As women succeed, lean in, and assume leading roles in any organization or work context, that culture will become more egalitarian, effective, and prone to retaining top talent.
About the authors:
W. Brad Johnson, PhD is professor of psychology in the Department of Leadership, Ethics, and Law at the United States Naval Academy, and a faculty associate in the Graduate School of Education at Johns Hopkins University. A clinical psychologist and former Lieutenant Commander in the Navy's Medical Service Corps, Dr. Johnson served as a psychologist at Bethesda Naval Hospital and the Medical Clinic at Pearl Harbor where he was the division head for psychology. He is a fellow of the American Psychological Association and recipient of the Johns Hopkins University Teaching Excellence Award. He has served as chair of the American Psychological Association's Ethics Committee and as president of the Society for Military Psychology. Dr. Johnson is the author of more than 100 journal articles and book chapters—many on the topic of mentoring—and 12 books, in the areas of mentoring, professional ethics, and counseling. Books of related interest include: On Being a Mentor: A Guide for Higher Education Faculty (2nd Ed.) (2015), The Elements of Mentoring (Revised Ed.) (2008, with Charles Ridley), The Elements of Ethics for Professionals (2008, with Charles Ridley), and Becoming a Leader the Annapolis Way (2006, with Greg Harper).
David Smith, PhD is an active duty U.S. Navy Captain and permanent military professor in the Department of Leadership, Ethics, and Law at the United States Naval Academy having served four years as the chair. A former Navy Pilot, Dr. Smith led diverse organizations of women and men culminating in command of a squadron in combat and flew more than 3,000 hours over 19 years including combat missions in Iraq and Afghanistan. As a sociologist trained in military sociology and social psychology, he focuses his research in gender, work, and family issues including dual career families, military families, women in the military, and retention of women. Dr. Smith is the author of numerous journal articles and book chapters—many on the topic of gender and the workplace. His most recent publications include: "On the Fast Track: Dual Military Couples Navigating Institutional Structures" in Contemporary Perspectives in Family Research (2013), "Dual Military Families: Confronting a Stubborn Military Institution" in Military Families and War in the 21st Century, Comparative Perspectives (2015), "Leadership and Peer Behaviors: Women in Combat" in Military Medicine (2016) and "Gender and the Military Profession: Early Career Influences, Attitudes and Intentions" in Armed Forces & Society.
---
This week my guest is Jeremy Cage author of All Dreams on Deck: Charting the Course for Your Life and Work.
About the book:
Set sail for the adventure of your life and work!
As Katie Couric, journalist, author and Yahoo Global News Anchor attests, "Jeremy Cage has written a great book that everyone who thinks about how to better balance work-life issues would benefit from reading….he's also shown us how to better navigate life's personal and professional challenges."
All Dreams on Deck will help you articulate your most important dreams in work and life and will then give you a practical approach for realizing those dreams. Through engaging, real-life examples, you will be inspired to live life to your full potential.
Author Jeremy Cage, President of the Cage Group, begins with the premise that there is no such thing as work-life balance. There is only life balance–of which work is an important part. With this as the foundation, he will guide you through a simple and actionable approach to determining the most important components of your life–the Grab Bags in your LifeBoat–then chart the course to making all the dreams in that LifeBoat a reality.
Jeremy, who has lived and worked in nine countries, has used this approach to help thousands of executives, managers, and their teams unleash their potential. He has also realized his own dreams by taking a sixteen-month sabbatical to sail around the world with his family before returning to the US to launch several exciting new companies. So rather than theoretical mumbo jumbo, Jeremy presents compelling, real-life examples of how to dream specifically, get highly intentional about those dreams, plan and prepare well–then summon the courage to set sail.
About the author:
Jeremy Cage's life mission is to help unleash the full potential of as many businesses and as many people as he possibly can. His business experience spans three decades of delivering strong, profitable business growth for Procter & Gamble, Schering-Plough Healthcare, PepsiCo, The Lighting Science Group, and his own firm, The Cage Group. He is a truly global citizen, having lived and worked in Germany, France, Belgium, Sweden, the United Kingdom, Venezuela, Brazil, Mexico, and the United States.
Jeremy believes that most businesses and most people regardless of how successful they have been to date do not actually achieve their full potential "as defined by them." Committed to not letting that happen in his own life, he embarked on a sixteen-month voyage to sail the world, with his wife, Pat, and their kids, Bradley and Elena. This stretched his leadership skills, built his courage, pushed him beyond his comfort zone, and stimulated his creativity through interactions with new cultures and people.
Jeremy's unique combination of business adventures and life adventures forms the foundation of the tools he uses to create breakthrough strategy, marketing, innovation, and people solutions for a diverse range of Fortune 500 companies.
---
This week on my guest is Ann Haynos PhD co-editor/author of Mindfulness and Acceptance for Treating Eating Disorders & Weight Concerns: Evidence-based Interventions.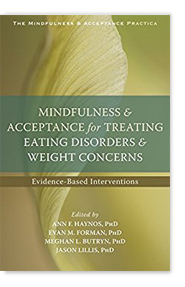 About the book:
Disordered eating, negative body image, and problems with weight have become an epidemic—and research shows that traditional treatments are not always effective. This professional resource offers proven-effective interventions using mindfulness and acceptance for treating clients with disordered eating, body image, or weight issues—and for whom other treatments have failed.
Millions of people in the United States suffer from eating disorders, and dissatisfaction with weight and body type—even in individuals whose weight is considered normal—is similarly widespread. In addition, more than half of Americans could benefit from healthy weight loss. Unfortunately, not all people with eating disorders or weight concerns respond to traditional therapeutic interventions; many continue to suffer significant symptoms even after treatment. What these clients need is an integrated therapeutic approach that will prove effective in the long run—like the scientifically backed methods in this much-needed clinical guide.
Edited by Ann F. Haynos, Jason Lillis, Evan M. Forman, and Meghan L. Butryn; and with contributors including Kay Segal, Debra Safer, and Hugo Alberts; Mindfulness and Acceptance for Treating Eating Disorders and Weight Concerns is the first professional resource to incorporate a variety of proven-effective acceptance- and mindfulness-based approaches—such as acceptance and commitment therapy (ACT), dialectical behavior therapy (DBT), and mindfulness-based cognitive therapy (MBCT)—into the treatment of persistent disordered eating, body image issues, and weight problems.
With these evidence-based interventions, you'll be ready to help your clients move beyond their problems with disordered eating, body dissatisfaction, and weight management once and for all.
About the editor/author:
Editor Ann F. Haynos, PhD, is a clinical psychologist and T32 postdoctoral research fellow funded by the National Institute of Mental Health through the department of psychiatry at the University of Minnesota Medical Center. Haynos's research interests pertain to identifying the underlying mechanisms associated with the development and maintenance of disordered eating, and developing and evaluating treatments for eating disorders and weight concerns. In a clinical capacity, Haynos has worked primarily with individuals with eating disorders using dialectical behavior therapy (DBT) and acceptance and commitment therapy (ACT) models.
---
This week my guest is Carol Lambert MSW author of Women with Controlling Partners: Taking Back Your Life from a Manipulative or Abusive Partner.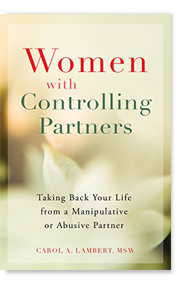 About the book:
A controlling or abusive partner can break even the strongest person—unless you know what to look for. Written by an expert in intimate partner abuse and based on her highly successful recovery program for women with controlling partners, this book will give you the strength, courage, and strategies you need to acknowledge the problem and stand up for yourself once and for all—whether you stay or leave the relationship.
If you have a controlling partner, you aren't alone. Millions of women suffer psychological abuse at the hands of a spouse or intimate partner during some point in their lives, not fully seeing or knowing what is happening to them. Research shows that psychological abuse affects women's overall well-being more than physical abuse, is a bigger contributor to inducing fear, and can be a precursor to violence. To make matters worse, having a controlling partner often results in hidden injuries like anxiety, depression, low self-esteem, trauma, and low self-efficacy—feeling like you can't make a difference in your life. So, where can you turn for help?
Based on over a decade of clinical and domestic abuse research, Women with Controlling Partners will help you identify the coercive constraints that can be predictive of intimate partner abuse, recognize the harmful effects of psychological abuse on your mental and physical health, and gain the personal strength and power to break free. Using the author's three-stage recovery model, you'll be empowered to move out of denial, deconstruct what holds you psychologically captive, and take back your life.
Abuse can be devastating, and having a controlling partner can make you feel crazy—and as if you're the one responsible. But you're not crazy, and you're not to blame! With this important, one-of-a-kind recovery process, you'll finally find the clarity of mind, courage, and strength to protect yourself from the hurtful control that damages your mental and physical health, and move toward a safer and happier life.
Carol A. Lambert, MSW, is a psychotherapist and domestic violence expert with three decades of clinical experience helping individuals and groups, and a career-long commitment to women's psychological health. Since 1993, she developed a unique approach and cofounded the Recovery Groups for Women with Controlling Partners that bring together insights from mental health, trauma recovery, and domestic violence. At McLean Hospital, a psychiatric hospital affiliated with Harvard Medical School, she provides domestic violence training and consultation. Over the years, her expertise took her from educating volunteers in a domestic violence program affiliated with local police to providing training and consultation to the National Football League. In all her endeavors, she brings critical attention to psychological abuse and the major losses to women's mental and physical health. She's currently in private clinical practice in Belmont and Concord, MA.
---
This week my guest is Arthur Ciaramicoli PhD author of The Stress Solution. We discuss the stressful period we all endured during the Presidential campaign and election, as well as the challenges we continue to face individually and collectively. Many relationships are strained and need to be healed. So, I thought it would be a good time to discuss the importance of compassion, character and values. We need to find ways to come together rather than grow further apart.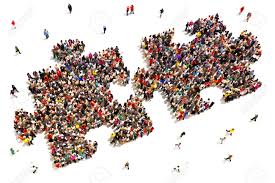 My guest: Arthur P. Ciaramicoli, Ed.D., Ph.D., is a licensed clinical psychologist who has been treating clients for more than 35 years. He is the Chief Medical Officer of Soundmindz.org a popular mental health site. He is also a member of the American Psychological Association and the Massachusetts Psycho-logical Association. Currently in private practice, Dr. Ciaramicoli has been on the faculty of Harvard Medical School for several years, lecturer for the American Cancer Society, Chief Psychologist at Metrowest Medical Center, and director of the Metrowest Counseling Center and of the Alternative Medicine division of Metrowest Wellness Center in Framingham, Massachusetts.
In addition to treating patients, Dr. Ciaramicoli has lectured at Harvard Health Services, Boston College Counseling Center, the Space Telescope Science Institute in Baltimore as well as being a consultant to several major corporations in the Boston area. Dr. Ciaramicoli is also a seasoned media expert.
He has appeared on CNN, CNNfn, Fox News Boston, Comcast TV, New England Cable News, Good Morning America Weekend, The O'Reilly Report, and other shows. He has been a weekly radio guest on Your Healthy Family on Sirius Satellite Radio and Holistic Health Today, and has been interviewed on The People's Pharmacy, The Gary Null Show, and more than two dozen other radio programs airing on NPR, XM Radio, and numerous AM and FM stations.
Dr. Ciaramicoli is the author of The Stress Solution: How Using Empathy and Cognitive Behavioral Therapy decreases Anxiety and increases Resilience (New World Library, 2016), The Curse of the Capable: The Hidden Challenges to a Balanced, Healthy, High Achieving Life (Wiley, 2010), Performance Addiction: The Dangerous New Syndrome and How to Stop It from Ruining Your Life (Wiley 2004) and The Power of Empathy: A Practical Guide to Creating Intimacy, Self-Understanding, and Lasting Love (Dutton 2000), which is now published in 7 languages. His first book, Treatment of Abuse and Addiction, A Holistic Approach (Jason Aronson, 1997) was selected as Book of the Month by The Psychotherapy Book News. He is also the coauthor of Beyond the Influence: Understanding and Defeating Alcoholism (Bantam 2000).
---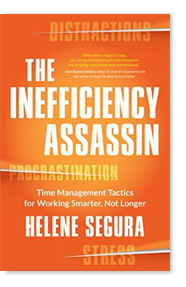 This week Helene Segura, author of The Inefficiency Assassin: Time Management Tactics for Working Smarter Not Longer is back to give us a New Year's reboot to help us create and maintain new habits.
About the book:
Slay procrastination, distraction, and overwhelm!
The Inefficiency Assassin™ presents a revolution in time management books – a way to improve productivity and Kick Chaos to the Curb™ once and for all!
You will learn how to:
Create productive calendars, yet morph time when you need to put out fires (or chase the opportunity of lifetime)
Slay lost time and beat back overwhelm from procrastination, interruptions and distractions
Implement productivity hacks so you can excel professionally and have a life outside of work
This book is exactly what professionals-on-the-go and entrepreneurs need!
This time management book addresses and solves every known productivity road block known to man…and woman. Readers who implement the strategies and tactics in this guide will never have an issue with time management again.
Do you want to wake up 10 years from now and lament, "I wish I'd lived a little more instead of work around the clock"? Helene Segura doesn't want to either. That's why she tells her time what to do – and teaches busy professionals how to do the same by slaying lost time.
The author of two Amazon best-selling books, Helene has been the featured productivity expert in more than 100 media interviews. During her time management keynotes and workshops, she shares her mind-bending framework for decreasing interruptions, distractions and procrastination so that companies can spend more time generating revenue.
On weekends, Helene can be found experimenting with recipes or sneaking adult beverages onto the lawn bowling court. To connect with Helene or for details about her third book, The Inefficiency Assassin: Time Management Tactics for Working Smarter, Not Longer (New World Library 2016), visit www.HeleneSegura.com.
---
This week guest is Holly B. Rogers, MD author of The Mindful Twenty-Something: Life Skills to Handle Stress…& Everything Else.
While my daughter (and co-author of Communication Skills for Teens) was home from college, we had the opportunity to chat with Holly about her new book.
About the book:
In The Mindful Twenty-Something, the cofounder of the extremely popular Koru Mindfulness program developed at Duke University presents a unique, evidence-based approach to help you make important life decisions with clarity and confidence.
As a twenty-something, you may feel like you are being pulled in dozen different directions. With the daily tumult, busyness, and major life changes you experience as a young adult, you may also be particularly vulnerable to stress and its negative effects. Emerging adulthood, which occurs between the ages of 18 and 29, is a developmental stage of life when you're faced with important decisions about school, relationships, sex, your career, and more. With so much going on, you need a guide to help you navigate with less stress and more ease.
The Koru Mindfulness program, developed at Duke University and already in use on numerous college campuses—including Harvard, Yale, Princeton, MIT, Dartmouth, and several others—and in treatment centers across the country, is the only evidence-based mindfulness training program for young adults that has been empirically proven to have significant benefits for sleep, perceived stress, and self-compassion. Now, with The Mindful Twenty-Something, this popular program is accessible to all young adults struggling with stress.
With Koru Mindfulness and the practical tools you'll learn from this acceptance-based, proven-effective approach, you'll be able to cultivate the compassion and mindfulness skills you need to manage life's challenges from a calm, balanced center, regardless of what comes your way.
About the author:
Holly Rogers, M.D. is one of the developers of Koru, an evidence-based program for teaching mindfulness and meditation to college-age adults. Holly works as a psychiatrist at the student counseling center at Duke University where she helps students integrate the practice of mindfulness into their lives in a meaningful way. She is a clinical associate in the department of psychiatry at Duke University Medical Center. She is the co-author with Margaret Mayan of Mindfulness for the Next Generation: Helping Emerging Adults Manage Stress and Lead Healthier Lives. Her latest book, The Mindful Twenty-Something, is a guide for young adults who wish to learn about using mindfulness and meditation to enhance their journey through emerging adulthood.
---